I love the Mario sports games. They're insanely fun, infinitely replayable, and extremely rich in Mushroom Kingdom lore. In a passive, Dark Souls-ian way, of course. The RPGs are much more explicit in how they flesh out the Mushroom Kingdom which often leads to inconsistencies. Like Super Mario RPG suggests that Bowser's Keep is a two-minute walk away from Mario's house while Mario and Luigi: Paper Jam puts an entire desert between the two locations (I will say that, during cursory research of this joke, I found that the distance between Bowser's Castle and Peach's Castle is always really close in the Mario RPGs, and, when it isn't (like in Paper Mario games), Bowser's Castle can fly and thus instantly be two minutes away from anything).
The great thing about Mario sports games is that they are allowed to forget all pre-established norms of the Mushroom Kingdom, timespace included. I mean, they're already letting Bowser play baseball with Princess Peach despite there being zero secret service agents anywhere, so who cares if the developers make up entire locations to put these random stadiums in? I do.
That's why I'll be looking at the stadiums in five different Mario sports games, and I'll try to put them in geographical context and monetary context. Because, let me tell you, sports stadiums in the 2000s are more than just a giant, out-of-place eyesore in a cityscape, they're also super expensive and usually the taxpayers in that cityscape are the ones paying for it. For the geographic context of a stadium, I'll try to be as specific as possible by namedropping at least one actual location from a Mario game where the stadium could conceivably be. For the money, I'll put it into total coin cost, where 1 coin equals $1, and I'll also say who paid for the stadium to be built. Spoiler alert, it's always Toads.
The five games we'll be looking at are the ones with the most interesting set of stadiums in that they are all over the Mushroom Kingdom and they aren't just patches of grass. Sorry Mario Tennis, every single tennis "dome" is in the Mushroom Kingdom's equivalent of Wimbledon Tennis Club. And, sorry, Mario Golf, I know that Toadstool Tour has some interesting thought exercises, like who on earth is the groundskeeper maintaining Bowser's Badlands' hole 3 and what did they do to deserve that punishment, but you can find some rich oil-trading Toad behind every well-manicured piece of grass. That's why we'll be looking at the stadiums in Super Mario Strikers, Mario Strikers Charged, Mario Superstar Baseball, Mario Super Sluggers (but only briefly), and Mario Sports Mix.
I think doing the same set of thought exercises on Mario Kart tracks or Mario Party boards could be very interesting, and might do that later. But it's these five games that I love and love to think about, so it's what I'm starting with. And the first game we'll look at is Super Mario Strikers for the Gamecube, the best game of all time.
Let's start with The Palace. No, it is not a palace for ants. This is the largest picture of the field I could find. The Palace was once a royal family residence which means that Princess Peach or one of her ancestors gave the go-ahead to turn the place into a soccer field. Nice touch from the field designers to keep the iconic dome and towers. Considering The Palace's past, the redesign from home into a stadium probably cost less than a typical stadium, and made the field fit in more with the surrounding landscape–like a Royal Fenway Park. I'll say that The Palace is in the hills beyond Peach's Castle as according to its Paper Mario 64 location, and the renovations cost some 30-40 million coins, based on the cost of renovations of Turner Field into a football stadium.
You really can't tell, but Pipeline Central is several miles in the sky, and on top of a floating platform. That is insane. The actual act of constructing this place meant the developers skimped on the material and built a soccer "field" of concrete. Forget the fact that players in Super Mario Strikers already have to deal with electric fences that zap the heck out of them and that flying elbows are encouraged, there's gotta be a billion skinned knees after any game here. Concrete for soccer. Who would do this?? And, again, this place was built miles into the sky. So the costs are literally… through the roof. You can vaguely make out a skyscraper in the backdrop, so I think it's safe to assume that Pipeline Central "field" is in the middle of an extremely rich New York-esque town that loves weird extreme sport entertainment and is "on top of the world". That means that Pipeline Central could only be in Glitzville from The Thousand Year Door. I don't even want to try and estimate how much of the Glitz Pit budget went into this. Yikes!
You thought concrete and a few miles above the sky was bad? The Underground is made out of metal AND below the surface. Wario and Waluigi privately funded this monstrosity. I know where Wario gets his money (the garlic stock market), but how on earth did Waluigi get the cash for this? Maybe he's got a metal-salvaging shop and was the supplier of the field material which, by the way, is METAL. Who would agree to play on this? While I think my educated guess of Glitzville for Pipeline Central is a good one, The Underground is under "a certain city", and MarioWiki says that city is Diamond City. Which is a location that's only ever been in WarioWare, and not any RPG. So I can't say that. Instead we'll just say it's underneath, uh, Rogueport from The Thousand Year Door. Those weirdos seem like they'd be into suffocating while watching illegal underground soccer.
Konga Coliseum is made out of wood, which sounds great compared to METAL and CONCERETE, but also means there will be a billion splinters. Still better in comparison. Donkey Kong obviously funded this, hence the name, in an effort to boost tourism to his town of, uh, Donkey Kong Island I guess? They've never shown where DK Island is in comparison to the Mushroom Kingdom, but I'd bet it's about as far off the mainland as Yoshi Island is. Pretty tame stadium from DK… but it still seems very against his nature aesthetic to even have.
Crater Field is set in a mountain range of active volcanoes on Yoshi's Island and features those heat-proof egg-shaped stands for spectators to sit in for their protection. Of course… the players have zero protection from the heat. Or the meteor that'll presumably crash down on them any minute since they're playing in Crater Field. I feel like everyone would've loved the absolutely insane extremism of Strikers if the game came out in the 90s. This is just beyond the pale. But, hey, at least the field is made out of grass! Which somehow never catches on fire due to the heat! Even though this place is on Yoshi's Island, and presumably in that mountain range in the exact middle of the island, I don't think that dinosaur could afford building it. I'm sure it was commissioned by the well-meaning Mushroom Kingdom colonizers and Elon Musk.
The Battle Dome is objectively the coolest stadium in this list. Sorry, but it's true. Set in Bowser's Castle whenever he doesn't have it set up for a go kart race, this place is great. Yes, the field is made of concrete, but look at the streetlights! And the design of the goals is epic, for the win. It also has the largest crowd capacity of any field on this list, seating 68,000 easily. Bowser is the only one in Strikers with some business sense. Just like the go kart tracks, he definitely privately funded this for some good Bowser army propaganda, and a lot of coin.
The last stadium in the original Strikers is Bowser Stadium. "But wait, Pungry, I thought The Battle Dome is in Bowser's castle. Bowser Stadium does not look like it's in Bowser's castle. It looks… blue," you say. And you're right! Bowser Stadium is in space. Why? Who cares! Bowser's castles always have flight capabilities, so you're just going to question his 50,000 seating capacity spacecraft that contains a rubber field? Come on! This was clearly built for rich Neo Bowser City residents to show their wealth by taking potential business partners into the weird suites located in the orange "lenses" of the spacecraft. Bowser definitely got those idiots to front the cost of this, saying that the broadcasting rights to the Super Bowser Cup finals will make that cash back and way more even though illegal streaming is deeply cutting into Striker profits. Morons.
Super Mario Strikers was, in a lot of ways, a proof of concept for Mario Strikers Charged. The stadiums and general world-building are a great reflection of this. All of the old stadiums are back and relatively unchanged (though The Battle Dome looks like there's soot falling from the stadium rafters, I think Bowser stopped maintaining the place), but there's ten new ones and each is crazier than the last.
Before we get to the stadiums, I'd like to remind everyone the canonical way teams enter the "pitch" in Mario Strikers Charged. In the original, teams clearly come out of some tunnel in the stadium, like a normal soccer entrance. In Charged… the captains are first teleported from some locker room onto an airplane, and then they skydive WITHOUT A PARACHUTE and land on the midline, ready to play. Slamball was already too much for human ligaments. If Charged's style of "soccer" became the norm, we'd know we were living in Brave New World or some other dystopian future. But I digress, let's look at the kooky stadiums in Charged.
Right off the bat, The Vice looks normal, but something seems off. And I'll tell you exactly what it is: these grandstands might be the worst thing we've seen yet. Not a single person is sitting, and I think it's because there's legitimately nowhere to sit. You don't see it, but the camera zooms out and The Vice shows off its 300,000 seating capacity. No, that's not a typo. 300,000 people all hemmed in with the world's worst view of a 100'x75′ patch of terribly-maintained piece of grass. At least, I think it's grass. I have no idea how the "cracks" in the grass happen, and I have no idea how anyone would sign off on this. The Vice's enormous size and seating capacity and terribly-maintained faculties combine into something that I don't think even Wario paid for. It was done cheaply for the masses, so I think some get-rich-quick scheming Toad from Toad Town put this all together and got his local politicians to make the taxypayers pay for this. I sincerely cannot imagine someone privately funding such an awful-looking stadium. You know what? If this is Toad Town from Mario and Luigi: Partners in Time, the cracks came from the Shroobs destroying the city. There we go. Mystery solved. I would never go to a game here.
Like I said, every stadium gets crazier. This is Thunder Island. It has a "seating capacity" of 25,000. Where are those 25,000 people if this is the soccer field, you might ask? Oh, you can kind of see them in the top-left. The audience is the colored blobs all packed together on floating stands. We know the players skydive onto the field, but how on earth do the fans get there? Regardless, Thunder Island probably cost nothing to "make". I think some insane cliff divers off the coast of Yoshi's Island spotted the outcropping and quickly calculated that it was the perfect size for a soccer pitch so they decided to put in some cameras and lighting. Instead of putting in the standard electric fence, they hired some Lakitus to fish out anyone that falls off the edge and called it a day. Again, no one in the Mario universe that we know of seems insane enough to be behind this, so it was probably nameless thrill-seeking Toads that did this. Terrifying.
The Sand Tomb is the most sensible stadium yet. There are zero spectators allowed! Instead, there's just a barebones camera crew with the electric fence technicians and some Thwomps that are at every game. I actually don't think this field's in the Mushroom Kingdom. The desert ruins make me think of Sarasaland, Daisy's home kingdom. I think it's the literal ruins of the once great nation of Sarasaland that Daisy decided to turn into a soccer field. But she only agreed to do it on the condition that no one is allowed to touch the actual ruins–hence no fans and the skydiving entrance. Yes, I'm aware the hieroglyphics of Mario and Donkey Kong on the columns kind of ruin this theory and put it in the Mushroom Kingdom–world 5 of Donkey Kong '94, probably–but I like my theory way more.
The Classroom seems more sensible than the Sand Tomb at first glance. But think about how players enter the field again. They don't come through any door or tunnel into here. They sky-dive. And when they skydive into The Classroom, the sky is black above them. So there's no actual roof above the Classroom, but the walls go all the way into the sky for seemingly no reason. It's low-key insanely constructed. Also, no fans! Who built this? Well, I said that I want to keep most of these in the Mushroom Kingdom, but Beanbean Kingdom's Woohoo Hooniversity got destroyed when Cackletta went through it, and there was no classroom remotely this size. I can only think some weird grant came in for Goom U, wherever the heck that is (it is NOT in Rogueport by the way), and they were like "well we got nothing else going". If I toured a college campus with The Classroom in it, I would immediately leave and never apply. Great song, though.
What would you guess The Lava Pit's seating capacity is? 0? Yeah, nah, you can't see it, but a million miles away from the actual field is a set of grandstands that holds 31,360. I have no idea why anyone would want to go to The Lava Pit in person. What happened to the Crater Field heat-shielding technology? This is Bowser Jr.'s home field, so you can bet that he is responsible for the idea. "I wanna play soccer in a volcano! It's gonna be epic, for the win!" is exactly the kind of thing a ten year old turtle-creature would think. Bowser got his best advisors to construct the place, but the turtle with the plan was Jr. And this vanity project probably came out of the funds that Bowser set aside for his Isle Delfino takeover, which is why the bathwater in that game is green. Anyway, don't go to a field called The Lava Pit. Which I think is in Corona Mountain, but really could be anywhere. The MarioWiki says it's in Dark Land, aka World 8 of Super Mario Bros 3, because you can see a rock formation of Bowser's head somewhere.
From the heat of the Lava Pit to the cold of… the Wastelands? The field of ice is my least favorite stadium in any Mario game. It sucks to play on because you go slipping all over the place. And I cannot imagine how awful it would be to go in person, but I guess Packers fans still go to Lambeau. After the previous three somewhat-professional stadiums, we're back to the great design of "a terribly-maintained chunk of field in the middle of a billion people" that The Vice and Thunder Island had. The Wastelands makes me think of Fahr Outpost from The Thousand Year Door. Icy, cold, no one there, no reason to go there. I bet all those Russian bob-ombs paid for this slice of entertainment so that there'd be literally any tourism. And it very sadly worked as you can see from the 40,000 here.
There's probably people out there mad about Red Rocks being a music venue, and those same people are mad about Crystal Canyon being turned into a soccer field. Look at these insane rock formations that are now playing second-fiddle to a patch of dirt with an electric fence around it. Tragic! And look at how close some of the 24,000 fans are to the crystals! Someone's going to break the crystal or try to steal it someday soon. This is Diddy Kong's turf, but I really don't see Diddy or Donkey Kong doing this perversion of nature. Crystals like these but much smaller are found all over a bunch of galaxies in Super Mario Galaxy, including the Mushroom Kingdom, as the crystals form when star bits make impact on a planet's surface. So Crystal Canyon could be anywhere. I'll just randomly choose a Donkey Kong canyon world. Alright, it's in Bright Savannah, world 3 of DKCR: Tropical Freeze. But it was built by those crazy Toads.
The Wastelands turns out to not be the least appealing field in Charged. It's The Dump. Yep. It's a soccer field in the middle of a dump with a small drain in the center that sucks in all the mud. There is no explanation for this one. I can almost understand The Vice. The people making the stadium initially probably didn't build it for 300,000 people. They probably expected it to be a minor success of a sport that would come and go, and when it became extremely popular, they just kept building up. This is a soccer stadium in a dump. No one of Mario's friends is this heartless. So who built this, and why did they agree to play in it? The answer to the second question has to be money. The answer to the first… well, I think this stadium is specifically in the Mushroom Kingdom dump, which is located at the end of the Mushroom Kingdom sewers. Which, if you take Kero Sewers from Super Mario RPG as the true look of the Mushroom Kingdom, would put The Dump like a mile away from Peach's Castle. This was not a well thought-out sewer system. Also, why would there ever be 43,000 people going to the Dump? Terrible field.
Stormship Stadium gets around every question about "where the heck is this stadium" by being a literal airship soccer stadium. The usual question of "who the heck would want to go to a game in this stadium" remains because the fans are on adjacent stormships and have the world's shakiest view of the game. Petey Piranha calls this field home, which is very funny because Petey Piranha is a man-eating plant with the chillest reggae song for a theme song, so the incongruity of the stadium just kind of fits with the rest of his incongruences. That said, he got these ships from Bowser after Mario still managed to fight his way through them in Galaxy, and Bowser just wanted those bad memories gone with the wind. If only we could use real life military warcrafts in this way. Oh, wait…
And after all the insanity of the Charged stadiums, we come to the simplest, most elegant stadium. Galactic Stadium.
Galactic Stadium is exactly like Thunder Island. Only instead of being on an island surrounded by water, it's on an island surrounded by outer space. This is the only field where it makes sense to do airdrops because how else do you get to outer space? I really wonder how it is financially viable for games to be played here since there's no revenue generated by ticket sales in outer space, and launching people to outer space seems prohibitively expensive. But that's why I'm not the Elon Musk of the Mushroom Kingdom, er, Muskroom Kingdom, and whoever decided to make the investment in Galactic Stadium is. Honestly, this seems like something Waluigi would do. It's not as gaudy as some of his other handiwork like Waluigi Pinball (which we'll talk about!), but it is the logical end of his extreme lonerism. "You don't like me? Fine, I'll take my ball and go home to my soccer field on a flying rock (which has i-beams sticking out of it, you guys see that?)".
Mario Strikers Charged is a game that you cannot start to question because there really are no answers for a lot of it. Like the fact that high-voltage electric fences line each one of these fields is quaint in comparison to the literal field location and construction. I love the game, but I pray that it never becomes a reality. Let's go from the super-extremism of Strikers to the far more grounded-in-reality Mario Superstar Baseball series.
I think the reason the baseball stadiums turned out more "normal" than the ones in Strikers is because of how regimented baseball is versus soccer. You can play soccer on any rectangular patch of land as long as you set up two goals. Baseball requires a diamond surrounded by an outfield and a bunch of walls. There is an innate order required to play the game. And while even the most basic of basic field in Strikers, The Palace, is pretty out there for a soccer field, Mario Stadium is an idyllic baseball field.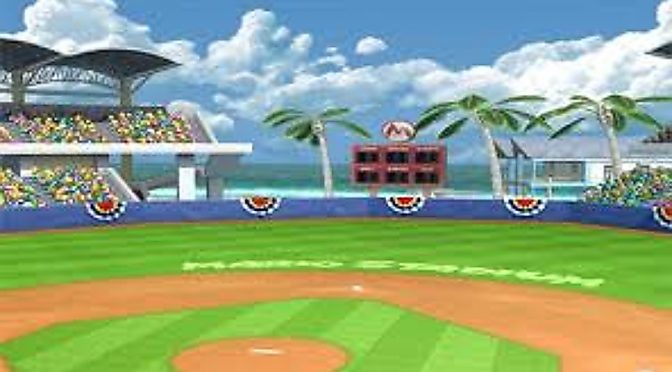 Set right next to a beach, Mario Stadium is as beautiful as PNC Park in Pittsburgh but nowhere near as cold because it's on Delfino Isle. It would be a lovely place to take in a ballgame. According to the MarioWiki, the stands "hold around 300+ people" which I think is a hilarious understatement if freaking Pipeline Central holds 25,000. I've already said this place is on the Isle Delfino but it probably cost a pretty penny for such a nice stadium. If PNC Park cost $216 million to construct, I'll say that Mario Stadium was around 175 million coins because they decided to just not construct anything in center field. I gotta wonder how much those houses on the beach with a view of the field have to cost because that's where I want to live.
There are zero good pictures of Peach Garden on the internet. While Mario Stadium has literally nothing in centerfield, centerfield of Peach Garden is the literal entrance to Peach's Castle with a huge door and always-one-hit-away-from-being-destroyed stained glass window just above it. There are no stands in the outfield–that's where the castle wall is–but this must also be a great place to catch a ballgame from the infield. The Strikers stadiums are designed to be as extreme and uninviting as possible, and the baseball stadiums feel so cozy in comparison, and I love it. Look! There are beautifully maintained hedges and a lovely water feature right in the middle of play. Considering the Toads are already taxed to heck and back for regular castle maintenance, the only real costs to "making" Peach Garden are the grandstands and the random floating blocks. That's just how the gardens normally look. No further questions about location considering it's in one of a few places in the Mushroom Kingdom that you could call iconic.
Wario Palace is the first deathpit of the Mario baseball series. First of all, it's in a desert. Secondly, there are small patches in the field that start a tornado whenever anything enters the area. Thirdly, there are chain chomps that jump into play and bite anyone nearby. And it's still tamer than literally anything we saw in Charged. Wario spent a bunch of money on making this place look good while trying to skimp as hard as possible on all costs, so it probably only cost 30 million coins. I mean, there aren't even any stands for fans to sit in, just the creepy golden statue of Wario underneath the creepier golden head of Wario in centerfield. I, for one, do not believe for a second that Wario actually lives here. Love the pitching mound's design. This place fits in with Scorching Sandpaper Desert's vibe from Paper Mario: The Origami King. I could see people living in Toad City making the trip to catch a game at the Palace… if the place had freaking stands!
Yoshi Park is on Yoshi Island. Not only that, it's two feet from Yoshi's house, as you can see by the iconic Yoshi fireplace with an apple tree in the background. I don't think any money was spent on this construction. They made the "dugout" and fences out of wood from freshly-chopped trees, took some patches of dirt, maybe hired a groundskeeper to cut the grass (but not the Piranha plants!) and make the cool Yoshi pattern. There's very few jokes to make about this place because it is bland. Other than Piranha plants eating the ball and players, there's nothing really going on at Yoshi Island's scenic baseball field.
Donkey Kong Jungle put all of its money in the barrel cannon gimmick. So much money that they didn't even bother trying to remove the river full of Klaptraps before putting in the baseball field. That river is going to eventually flood during a bad storm and destroy the field, I don't care what those floodgates in left-center field are doing. Anyway, the barrel cannons are ridiculous things that fire huge barrels across the field that run over players. Each barrel probably costs 5000 coins to fire, and they fire every time the ball is in the outfield. This is why they really skimped costs on literally everything else in construction. No stands for fans. I do wonder if the field makers found this perfectly-shaped hole and decided to put a baseball field in or if they somehow made this crater without destroying the surrounding ecosystem. Let's just say it's in Forest Maze in Super Mario RPG and not think about this too hard.
The last field is the iconic Bowser Castle. Just compare the construction of this place to The Lava Pit. You can just feel Bowser's top priority was safety when it came to the open metal grates that let fireballs jump out burn opposing players because the rest of the lava pit is not open to fans to get burned with. Heck, there aren't any stands for fans here either. It also has a huge centerfield with a cool centerpiece of Bowser looming over the batter. I'd be terrified if I was hitting here. Also, the Thwomps don't squish players–they squish the ball since they're outside the field of play. Bowser Castle really is downright humanitarian compared to Strikers. Anyway, this place is obviously in a random room of Bowser's Castle and presumably cost little for Bowser to make. I bet the statue cost the most.
After all this try-hard writing, it's nice to get an easy break. All 9 of Mario Super Sluggers' baseball stadiums are on a man-made island called "Baseball Kingdom". Princess Peach was behind the construction because she wanted all of her friends to play baseball together. She reportedly said "let's play baseball every day, let's play baseball every night, let's play baseball all of the time". As such, I literally don't have to say a single thing about who paid for the construction of this place.
HOWEVER! Wario City (the right-middle field south of the jungle) was built by Wario and the northernmost field(s) of Bowser Jr. Playground and Bowser Castle were built by Bowser. By the way, Bowser managed to build these stadiums on the top and bottom of a submarine that was used to transport the fields in secret in order to connect with baseball island. Perfectly, I might add. Like Peach expected it. During the day, the submarine flips to have Bowser Jr's Playground up, and at night it has Bowser's Castle. I would love it if someone, anyone could try and rationally explain how that works. Also, pretty messed up of Peach to build the Luigi's Mansion field in the upper-left. And the person behind the construction of an entire island dedicated to baseball decided that her ballfield would be an ice rink. I really do not understand Peach's thought process at all. I cannot imagine that the hard-working taxpaying Toads felt great about this investment from their royalty. Tickets to go to any game on the island cost five times as much due to the boat ride and construction, in addition to all the money paid in taxes. Awful luxury project that would get Peach voted out of public office but she's luckily a royal. And not a Kansas City Royal. I could get in there and make fun of every stadium on the island, but I've said my piece. Let's get to the last game with the most amount of stadiums: Mario Sports Mix!
There are 14 stadiums for the 4 sports in Mario Sports Mix. Some of these stadiums can host all 4 sports featured in the game, while others can only host 2 or 3. Those 4 sports, by the way, are basketball, dodgeball, volleyball, and, uh, hockey. Don't worry, outside of one stadium, it's roller hockey and not ice hockey. Before getting to the stadiums, I just want to say that, according to Mario Sports Mix, the Mushroom Kingdom had never heard of hockey, dodgeball, volleyball, or basketball until a giant meteor crashed into the place and the meteor split off into four crystals that each contained that sport's ball/puck. Which is, frankly, hilarious world-building.
I'm starting to get the feeling that nobody cares about these games. Not even MarioWiki has good photos of these cool stadiums. This is Mario Stadium in its basketball form, but it's a traditional multi-purpose arena like an NBA/NHL arena that can easily transition into hockey, dodgeball, or volleyball as needed. Looking at Climate Change Arena for the cost, Mario Stadium probably cost a cool 900 million coins, and is pricelessly soulless for it. I hate its aesthetics, especially compared to all the previous cool places we saw. I don't care that it's the best experience for fans! Mario Stadium could be located literally anywhere with how homogenized it is. It's in the Mushroom Kingdom equivalent of Indianapolis. So, uh, congrats to Rose Town from Super Mario RPG for being the most generic town I could find in a Mario RPG. You're the lucky winners of Mario Stadium.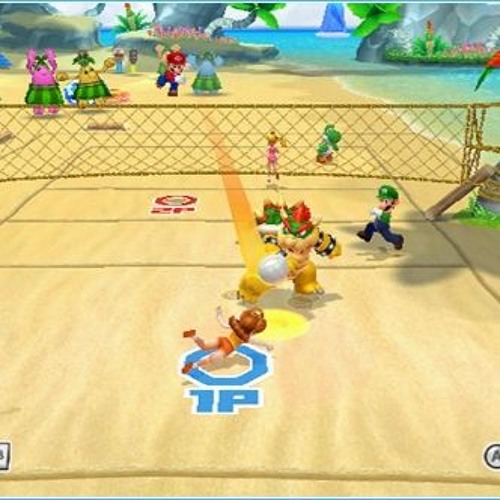 Koopa Troopa Beach is probably the beach that Mario Stadium from Mario Superstar Baseball sits on top of. It definitely cost nothing for the "stadium owners" to put up the volleyball net, or set up the dodgeball arena, or even put up the basketball hoops. But it must've cost them a lot to find rollerblades for hockey that work ON SAND. I'm not going to think about that one too hard. This place is in Isle Delfino and is only notable for sand rollerblades, which I would love to have.
Peach's Castle directly contradicts the lore established in Mario Superstar Baseball as the field is nowhere to be seen even though it should be right there directly in the background of this shot. MY CANON! I really love the water feature that cuts through Peach's Castle in all four versions of this field. Beautifully elegant. And all 200 people that can attend games here must feel so refined to watch the best and brightest try and hit a volleyball through a water spout. I can only hope they're out of the splash zone. This place is shockingly at Peach's Castle and cost her very little, especially in comparison to Baseball Island.
I do not conceptually understand why anyone would make a stadium like DK Dock. It is obnoxious as heck. The gimmick is that the playing field is two loosely-connected rafts that pull apart from each other due to the current. Whenever the ball goes out of bounds or a player falls into the water, the rafts must be reset to their neutral position. That is just a pain. Awful stadium design. The game's trying to blame DK for this terrible construction but I get the feeling Croco is behind this and made the dock's starting location somewhere just outside the Kero Sewers. I'm onto you, you jerkish purple crocodile. As a quick sidenote, whoever took this screenshot is either using a Mii that looks like Rosalina or is playing a modded version that puts Rosalina in the game, and it's really freaking weird!
Toad Park is the first truly original stadium in Sports Mix, and I like it a lot! The field is playable only for hockey and dodgeball, and the gimmick is that there are traffic cones blocking stuff. That's just good. The field itself is set in the middle of a go-kart racetrack–and I personally think it's the middle of Toad Circuit from Mario Kart 7. So by answering where this track is located, we can suss out where one Mario Kart track is. This is a working-class Toad stadium that honest workers can take their families to on the weekends, so it's somewhere between downtown Toad Town and the suburbs on slightly cheaper property. It doesn't look like the whole theme park cost too much to make because the clientele isn't that rich, so we'll say it's some 150 million coins in expenses and be happy about it. Toad Park is praxis.
Luigi's Mansion is only playable for volleyball and basketball, which is a shame because it's got a fun "lights on, lights off" gimmick that would've worked well for hockey. Anyway, it's Luigi's Mansion. For all we know, Luigi's Mansion has always been on Baseball Island, so its appearance here means the gang went back to the island to play. Or the ghastly house just teleports wherever the heck it feels like. Regardless, whoever built this mansion has been long dead, and was also a terrible electrician. Can the new owner of the house please put in some modern necessities?
I love Western Junction. Just like Toad Park, it adds some good environmental lore to the Mushroom Kingdom. Like there's apparently a place where the gold rush continues to happen since Shy Guys on trains will just come through the play area with either actual gold or with a yellow item more valuable than gold: bananas. It's just so funny to me that the Mario Sports Mix versions of people would choose this place to play. The Charged universe would deem it too boring, but a literal train crossing seems out of line compared with stuff like Mario Stadium and Toad Park. Just like Koopa Troopa Beach, most of the playing surface was here before anyone decided to turn it into a hockey rink/dodgeball arena/volleyball and basketball court, so it must've cost nothing to make. All the maintenance costs are probably paid for by the Excess Express Corporation as they take passengers from Rogueport to Poshley Heights via the Western Junction. Great work, Pennington.
Daisy Garden is also good world-building. This level suggests that Daisy is slightly sadistic as she puts Petey Piranhas into her garden on purpose. You know, a man-eating plant? Seems dangerous! Also, it feels really weird that the garden has some strange metallic playing surface instead of a bed of grass or succulents. Like, come on, Daisy. That can't be good for your plants. Not that having idiots stomp around and play roller hockey on it could be much better. Really, why did you offer your garden as a place to play sports? If every captain in Sports Mix needed to provide a place to play, there must've still been a better option than your greenhouse. Or maybe she just saw it as a convenient way to cut costs like every other stadium in this dang game. Only Mario actually offering up some money for a real stadium while all his "friends" suggest playing in their one-bedroom apartment. Oh, and Daisy Garden is clearly in Sarasaland.
Come on! Did you not hear what I just said, Wario? Your factory is a place to make treasure chests that contain coins or bombs for Neon Heights, not a place to play hockey, dodgeball, basketball, or volleyball. Did literally everyone in the Mushroom Kingdom get hit by the 2008 US Recession? What happened to Wario Palace's majesty? Or the extremely stupid expenditure for Wario City? Now all you have the money for is converting a small part of your factory into a sporting room? Come on. I know you want some ROI for taking Smithy's old factory from Super Mario RPG and turning it into a better place, but this is awful.
Bowser Jr. Boulevard is the best stage in Mario Sports Mix. With that out of the way, let's focus on how the literal child is the only character connected to gambling/casinos/red light district. It's pretty funny that Nintendo allowed such a strong connection between Jr. and a casino considering how strict they were and are about censoring games. Anyway, the basketball/volleyball court on Bowser Jr. Boulevard is actually on a raised platform above the titular boulevard which presumably has shops and roads for cars or something. Whatever the heck is on a boulevard. This is just the cool spot to be and hang out. You can't really tell, but there's a pool to the side of the court where many fine young escorts hang out while catching a game. Bowser Jr. Boulevard is clearly the Broadway of Neo Bowser City, and cost a ton of money to make. You see that floor? That's not hardwood, that's an LCD screen that is able to display stuff like the "spotlights" with numbers on them and the giant rainbow display at the end of halves. It'd be such a sick thing to do in real life if not for how fragile it'd actually be. God I love this place so much. Make it real!
Bowser's Castle is underwhelming in creativity compared to the Boulevard of Broken Bowser Jr.s (Jrs? J.rs? you decide). It's basically the Lava Pit, only much smaller. Instead of being set on a floating platform in the middle of a lava ocean, this platform is supported by chains that allow the stage to tilt one way or the other while also in the middle of a lava ocean. But at least the chains are realistic, even if the lack of heat protection isn't. Even Bowser himself wasn't immune to the recession. I think the chains were a nice way of making the most out of a limited budget, because this whole place is underfurnished. All of the cool landmarks in the background were already built before this stadium was conceived. Maybe he spent all his money funding Bowser Jr.'s Boulevard. Regardless, it's in Bowser's Castle, which can be wherever the heck it wants to be.
I love Waluigi Pinball. Look to the left of that screenshot, and really take in the look of Waluigi's robot. That thing rules. This place rules. Whoever originally came up with the concept in Mario Kart DS needs a raise. This place cost a ton to make for Waluigi, I'm sure. The robot alone with its pinball-wizardry probably cost as much as all the previous stadiums combined. Let alone the absolutely perfect theming and material used for the rest of this place. Look at the tunnel entrance in the background for the pinball! That is a beautiful touch. Maybe everyone was convinced by Waluigi to pitch in on this instead of making their own cool stadiums in some Mushroom Kingdom shark tank. It's so good. I honestly have no idea what place in the Mushroom Kingdom deserves Waluigi Pinball, or had the space to let it be constructed there. Glitzville already has Pipeline Central, and it's one of very few flashy-enough places for something like Waluigi Pinball. Ehh… I guess Flipside had the arcade. I'll say it's there, since Super Paper Mario doesn't fit among the Paper Mario family, just like Waluigi.
Ghoulish Galleon is a weird ship that can host volleyball, dodgeball, basketball, or hockey at a moment's notice, but has just a literal skeleton crew of Dry Bones and some empty boxes that get in the way. There is no explanation as to who decided this would be a good place to play sports at. If you subscribe to the theory that every Mushroom Kingdom character in Mario Sports Mix had to bring their place to play, this place belongs to either Diddy Kong or Yoshi. And it does not seem in line with either of their styles! The more I think about this place, the more out of place it feels. Like, Koopa Troopa Beach at least fits into Isle Delfino. There was a ghost ship level in Super Mario World but that was it, and this place doesn't feel like that level at all. Considering how torn up the place is, it's another stadium that pretends to be "just found" like some readymade art. Personally, I think Cortez finally got his ship out of Keelhaul Key and was just riding around when Mario remembered it existed and decided it'd be a good place to play sports at.
Last but not least, this Star Ship was meant to fly. Star Ship is just like Stormship Stadium in that it's a mobile stadium that can go anywhere it wants to. I'd love to know how much it cost to convert the deck of an airship into a basketball court. Based on how expensive the hoops look, it probably cost relatively little, and they spent the excess budget on cool touches like that. Kind of sad I don't have much to say about the final stadium, but it's just a less extreme version of Stormship Stadium.
And with that, we've covered all of the stadiums in Super Mario Strikers, Mario Strikers Charged, Mario Superstar Baseball, Mario Super Sluggers, and Mario Sports Mix. I really enjoyed looking at each stadium and trying to figure out where it would be geographically. Even if some of the stadiums were in self-explanatory spaces, thinking about the logistics of the Mario Strikers Charged stadiums was great fun.
If I feel like it, I may write a sequel post that looks at the gimmick stadiums in Mario Power Tennis as well as the stadiums in Mario Hoops 3 on 3 and Mario Sports Superstars. Or maybe I'll also do what I said and look at Mario Kart tracks and Mario Party boards. Or, what I'd really love to do, is analyze some new stadiums from a new Mario sports game. Please, Nintendo. Just give me another Strikers sequel. Don't let Mario Tennis Aces kinda flopping ruin this for me.