Editor's Note: After some ten-odd years of hanging out as part of a fantasy fantasy baseball league, I have taken on a pretty major role as the commissioner of the league below it. This duty takes a lot of energy if you want to do everything the main commissioner does. It requires tons of mindless busywork setting up the save file on Baseball Mogul, plenty of patience to read every post from every owner who wants to change who their #9 hitter is, and an incredible amount of creative energy to write about what happened in a baseball simulator that has very little to show instead of tell. It will be taking all my focus for the next month and a half to put together, with updates every other day.
As such, I'll be cross-posting my updates over here, since all of my writing will be going into that. Feel free to ignore it like everything else. In the interest of space, I've omitted most screenshots, and have only posted how the ones showing how the teams did.
————————————-
RAY HERBERT MELTS LIKE SHERBERT AS CHANCERS LOSE 3-2 ON OPENING NIGHT
The Seventh Sea Chancers were… how you say… "bad" in the Expansion Cup. Beating a division contender after losing 128 games in the expansion cup would've been a huge victory for Ablative's new-look Chancers. So, going into the ninth, up 2 to 1 with the bottom of Winnipeg's lineup due up, Ablative turned to solid-but-forgotten Ray Herbert to shut the door. Herbert rolled a 1.
Roberto Clemente hit a one-out single to start the rally off, and scored on a Robinson Cano triple, which you know is a bad sign. Wade Boggs hit a ground ball to shortstop Lou Boudreau, who decided that Cano's speed was too much, and Boudreau threw to first instead of home, letting Cano score the winning run. Tom Daly hit a two-out single in the bottom of the ninth to give the Chancers some life, but Pete Rose immediately grounded out to end the game.
"Yeehaw! It's time for y'all to fly that Canadian W, pardners!" said Winnipeg Baseball Team's owner, Edward Mass. "Now, I know what most folks are thinkin'. What's this Texan doing with a Canadian team? Well, I'll tell ya one thing, cowboy: we ain't movin'. This ain't the Expos, son! All the cattle I need are already here in Winnipeg giving the finest Canadian bacon in the Americas! Just don't you pay no mind to the low-effort redesign of the team's logo and name—the Nordiques made a big show of a new logo and proved to be all hat. Not like us Winnipeg Baseball Teamers… we're sticking in the True North just like the stars."
Chancer owner Ablative was nonplussed by the loss. "What is but one more loss on this journey we call life other than another stepping stone to its conclusion? As we roll through our lives, one D20 roll after the other, there will be times we roll twenties, and there will be times we roll ones, but is it not the best course of action to roll with the punches instead? I expect my team's luck to turn around sometime. Ideally before it loses another 128 games."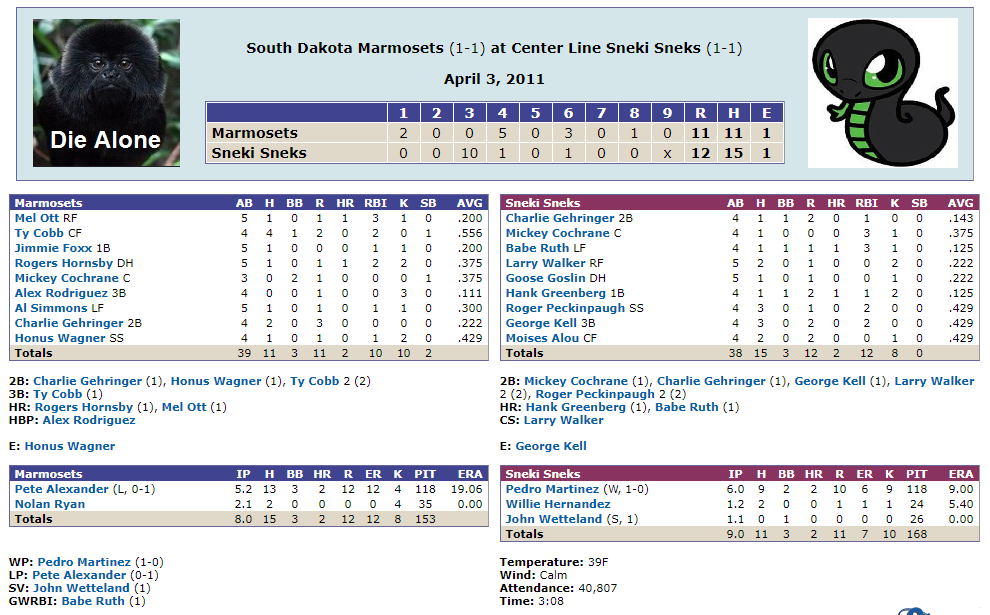 MARMOSETS CANNOT COMPLETE COMEBACK AFTER SNEKI SNEKS 10-RUN THIRD, LOSE 12-11
American hero CBX's new team exploded for ten runs on nine hits in the third, and sent fifteen men to the plate in the process. But Sneki Sneks' starter Pedro Martinez almost single-handedly gave the game back to the South Dakota Marmosets over the course of the next three innings, exiting the game with a 12-10 lead. Willie Hernandez gave up another run, but John Wetteland shut the door with a four-out save, giving the Sneki Sneks a big win over a Twin Cities Triad titan.
"What a heckin chonker of a won!" said CBX. "Pedro was doin me a frighten as he borked the Marmos right into mlem range of my Sneki Sneks, but Wetty booped the Marmo's snoot for teh win!" When asked why he kept Martinez in the game through six innings despite giving up ten runs (six earned) in that timeframe, CBX responded "Martinez is a longboi. How could you look into that floofer's face and tell him 'no'? He just wants to be fren."
Marmosets' owner Zodiac5000 expressed sadness in his post-game interview. "It's times like these that prove that we're all just going to die alone in the end. Nothing really matters. Pash will never pick me up from the bar that is life. I am doomed to die alone, and I don't even have Chelsea Baker to kill me anymore." A reporter pointed out that Zodiac could always ask for The Final Donslaught to do the honors. "Donslaught? Pah. Do you know why he's The Final Donslaught? It's not because he's strong. It's because he's too weak to survive. He is the last man in the noble Donslaught lineage. He should have oodles of women throwing themselves at him. Instead, Kelsie Whitmore is throwing softballs at him. Pathetic man."
STICK CLUB APPELATION HITHER NOTCHES FIRST WIN BEFORE NOTCHING NAME BY OUTLASTING MOSQUITOES 4-3 IN TEN INNINGS
Albert Pujols made up for ending the Stick Club's eighth-inning rally by driving home Dan Brouthers in the bottom of the tenth to beat the Milan Mosquitoes 4-3. Mosquito reliever Stan Covelski took the loss after throwing 44 pitches in 2 innings of work while real baseballer that everyone loves, Tom Burgmeier, got the win for his scoreless inning of work in the tenth.
Mosquitoes' owner GVOLTT was not amused by the loss. "How can this team be allowed to play without a name? Winnipeg Baseball Team is already stretching the idea of a team name, and you expect me to believe something called 'Stick Club Appellation Hither' can fly? That name can't even fit inside of Mogul's character limits! They're 'Stick Club Appellation Hith'! I'll refer to this band of losers as the 'Hiths' from now on." said GVOLTT. "And for those of you doubting whether there are mosquitoes in Milan or not, I'll have you know there's over 500,000 results for 'milan mosquitoes' on Google. Not that I'd ever go to godless Italy to check."
Hiths owner TheoSqua reportedly showed up for his post-game interview, but all that was in the press conference chair was a baseball bat with a face drawn on it. Press were instructed that all questions be directed to "El Shaddai" who kept the same look of slight self-satisfaction in silence as reporters asked question after question about Stick Club's logo, origins, lineups, and connection to God. The press conference ended as reporters walked out in frustration while Shaddai kept his all-knowing look.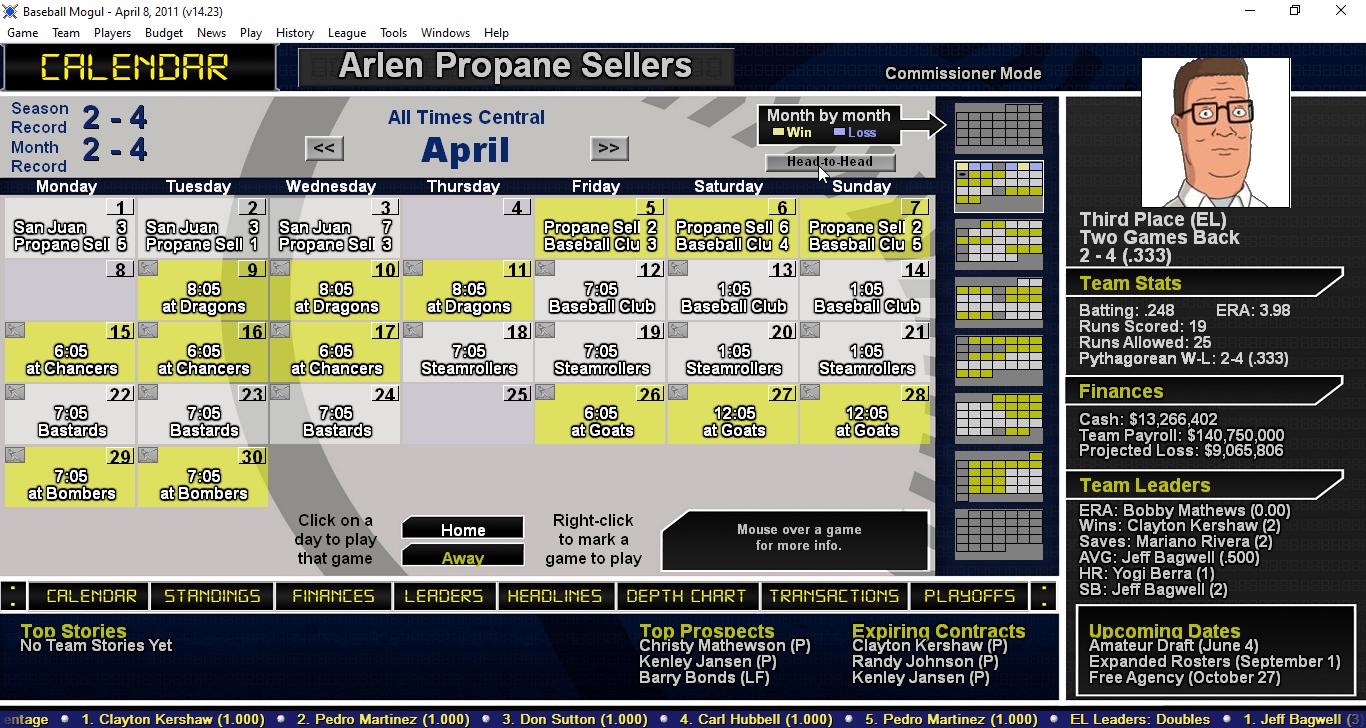 Small sample size theatre, but perhaps try getting more Bs in the bullpen instead of Cs as they lead to Ls.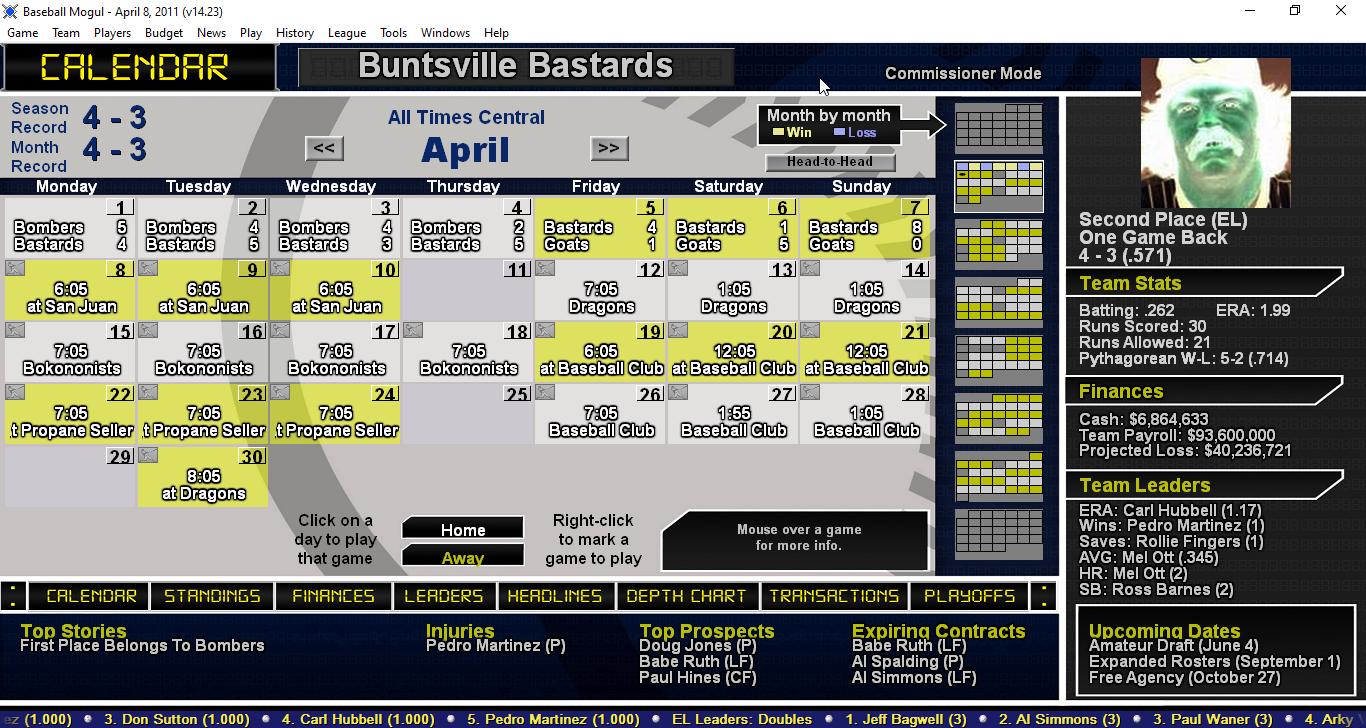 Splitting a series with the Bombers has to feel good, even if it may not feel great that Rheal Deal Cornier couldn't close one of those one-run losses out.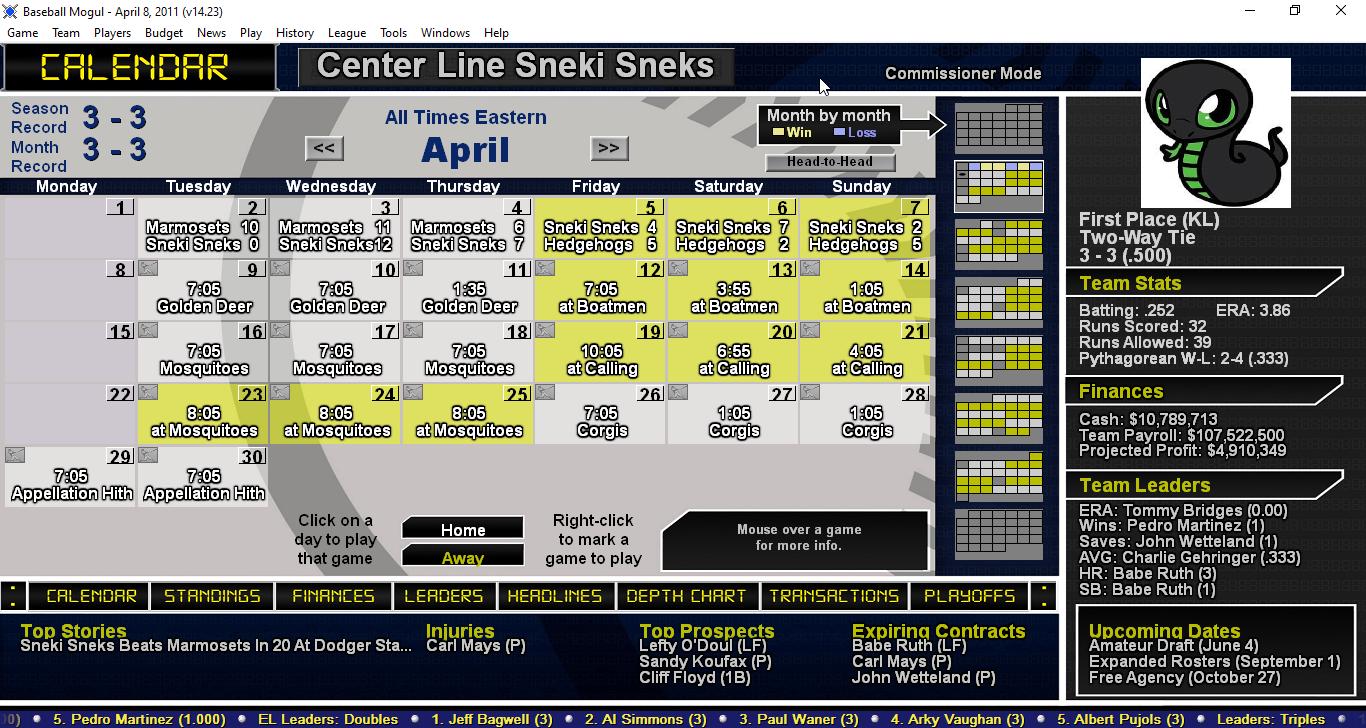 Unsurprisingly, this team's offense does not appear to be what'll hold them back. Stolen base leader Babe Ruth might.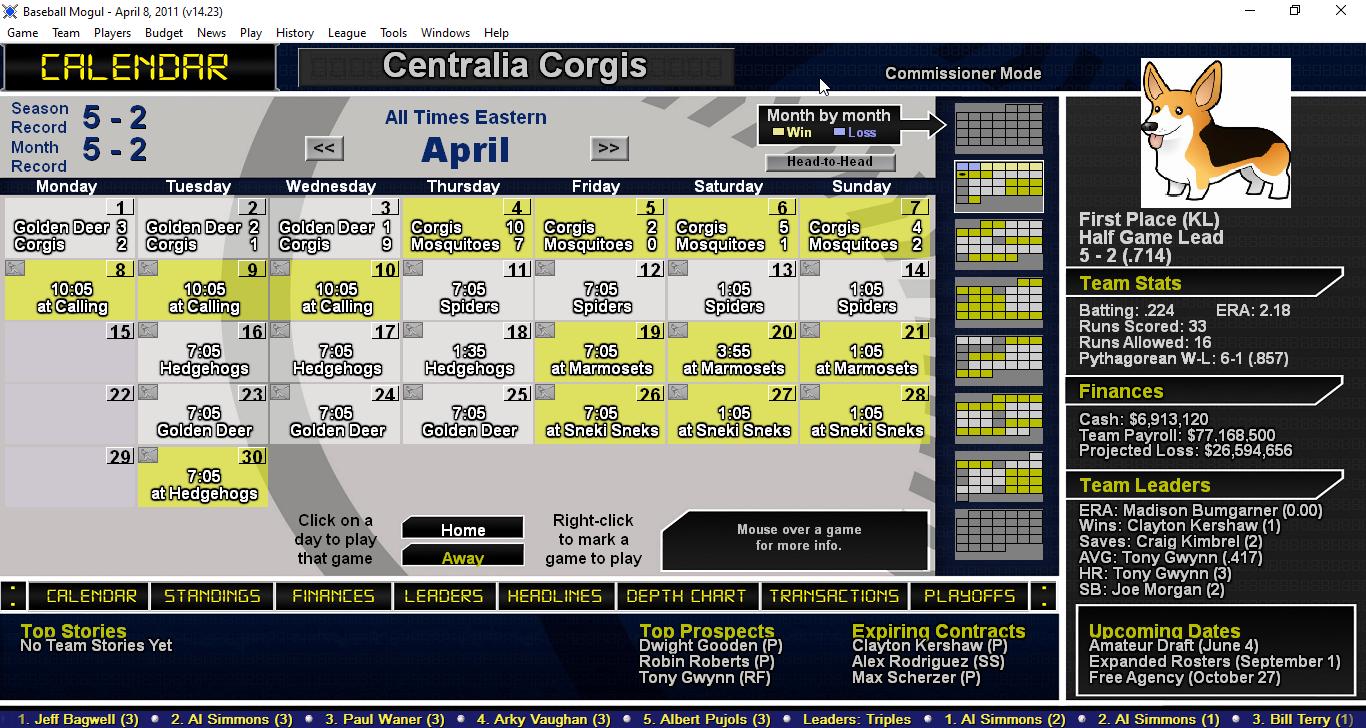 The Hype Machine off to a strong start.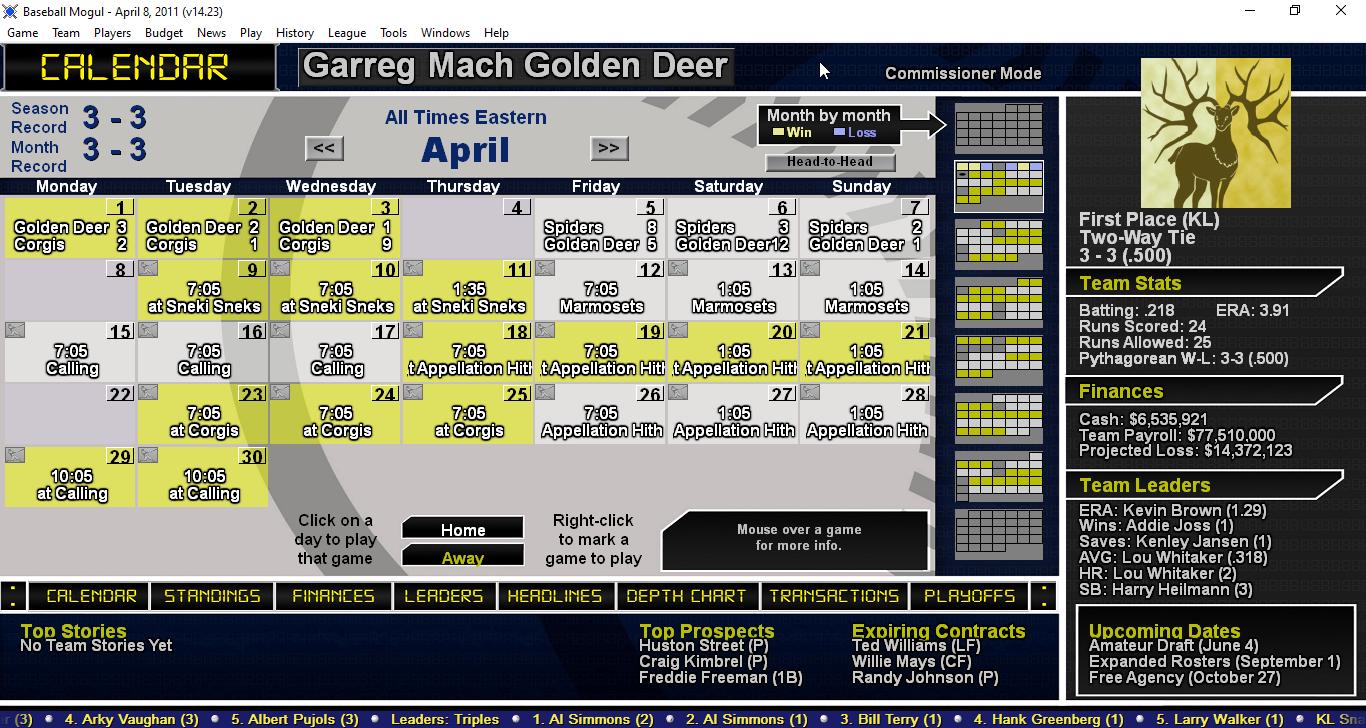 Pegasus Knight Eddie Plank keeps getting sniped by arrows because you refuse to move him out of range of the ballista. Why? Why do you do this to one-thirds the
Golden Deer triangle attack?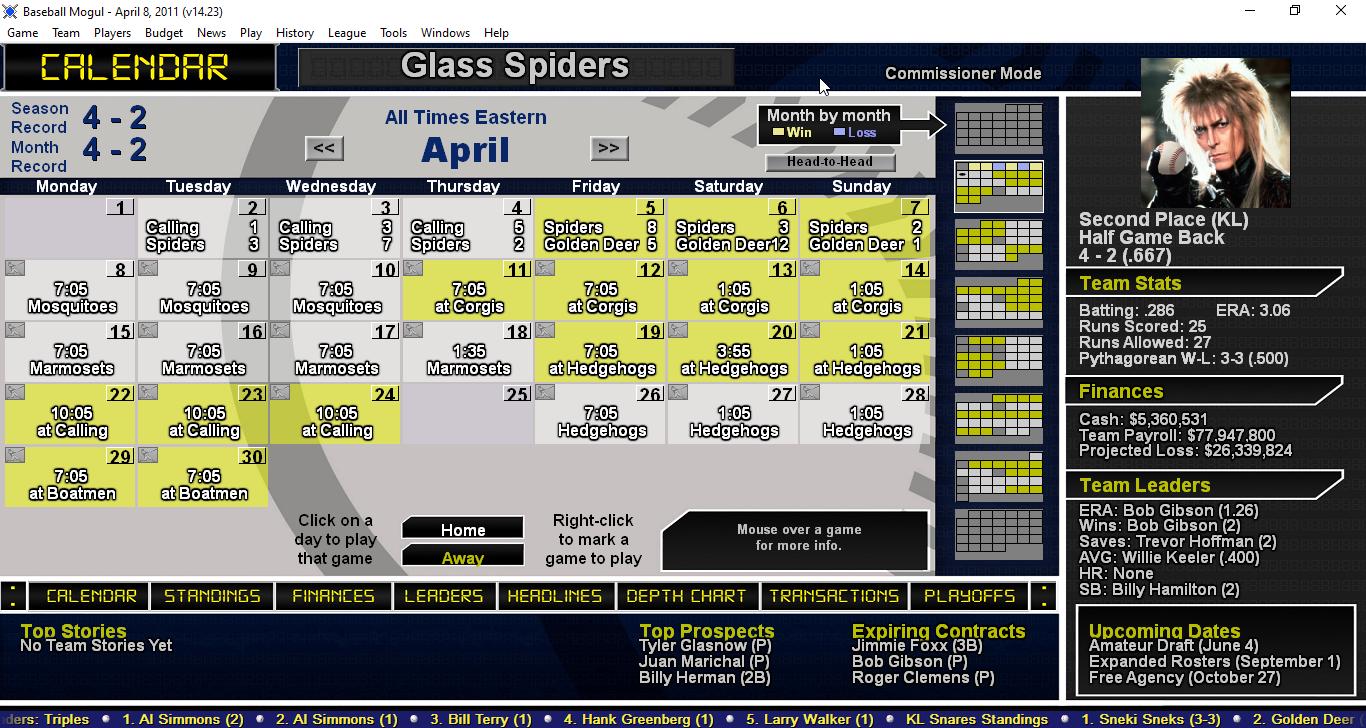 Trashcan functionality has finally been added to mogul, it appears.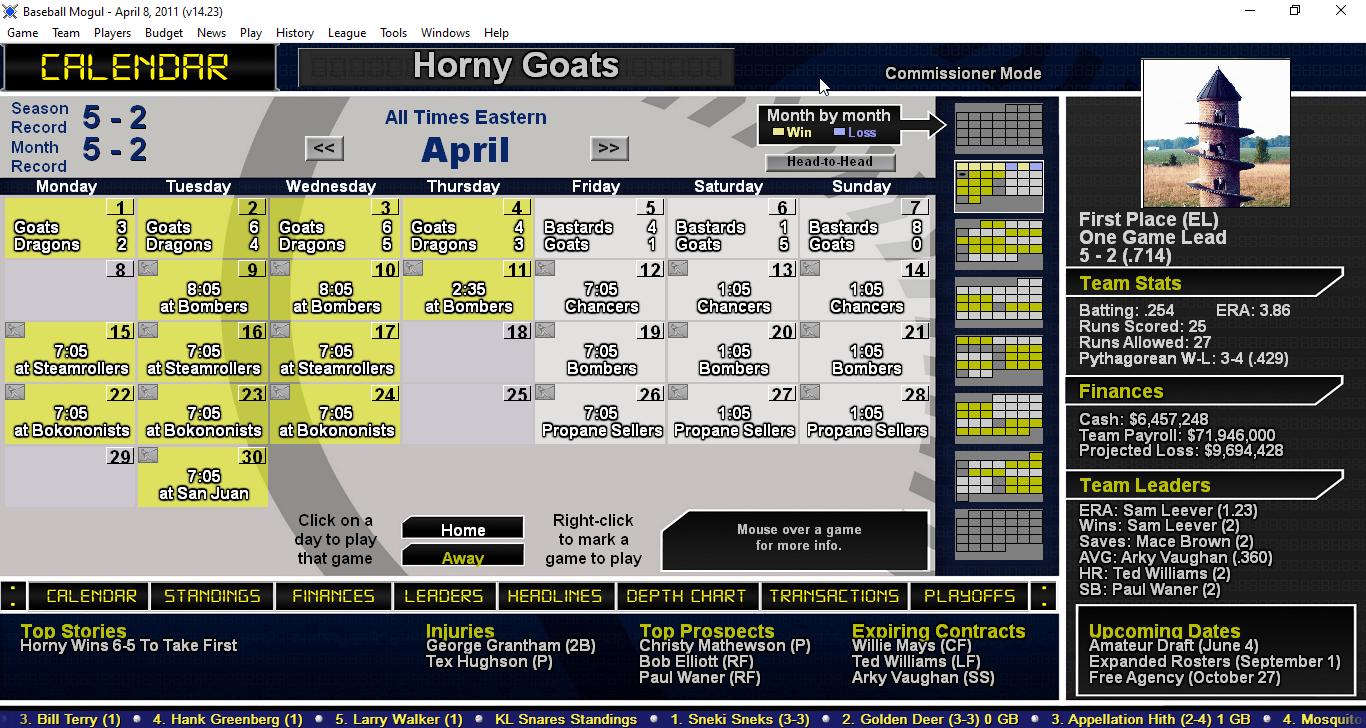 Grantham sacrificed himself to counteract the usual blood magik from the Dragons. It led to a 4 game sweep, so it wasn't in vain.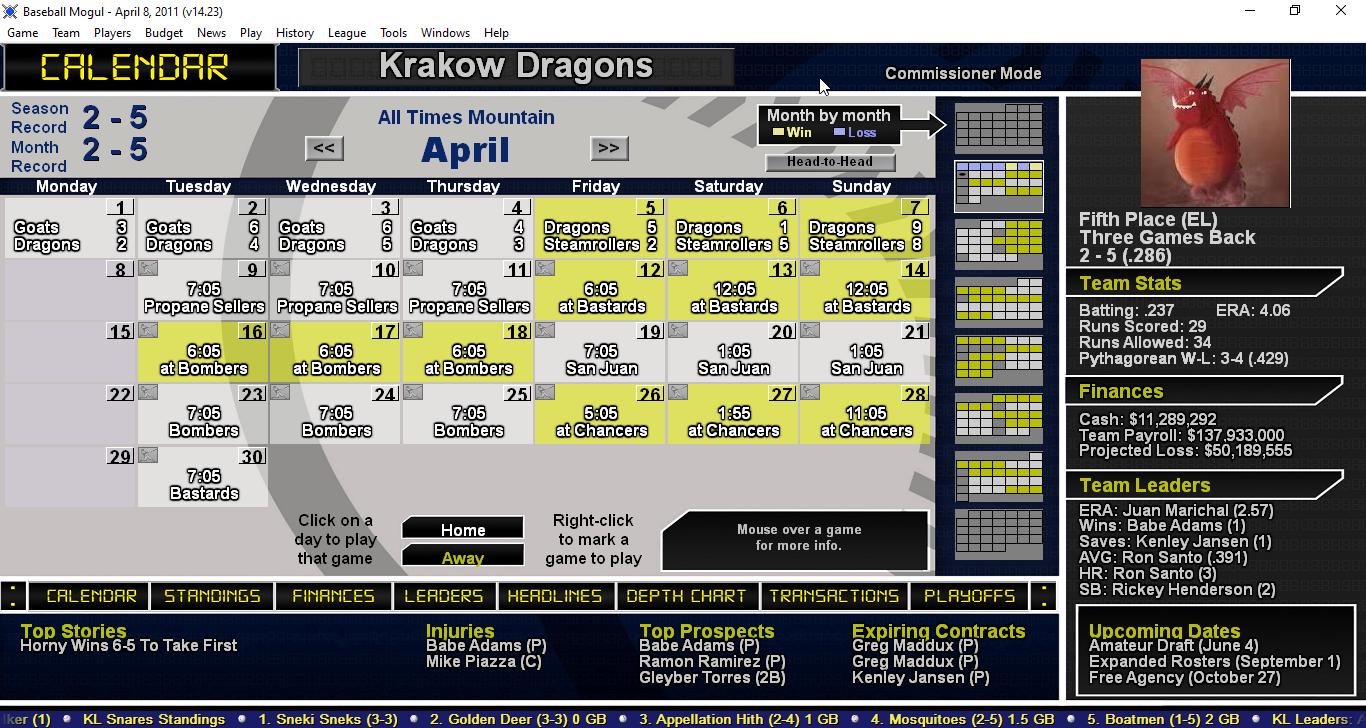 Small sample size but it feels comforting to see anyone with a worse slashline than Jarred Kelenic, 2021 Mariner.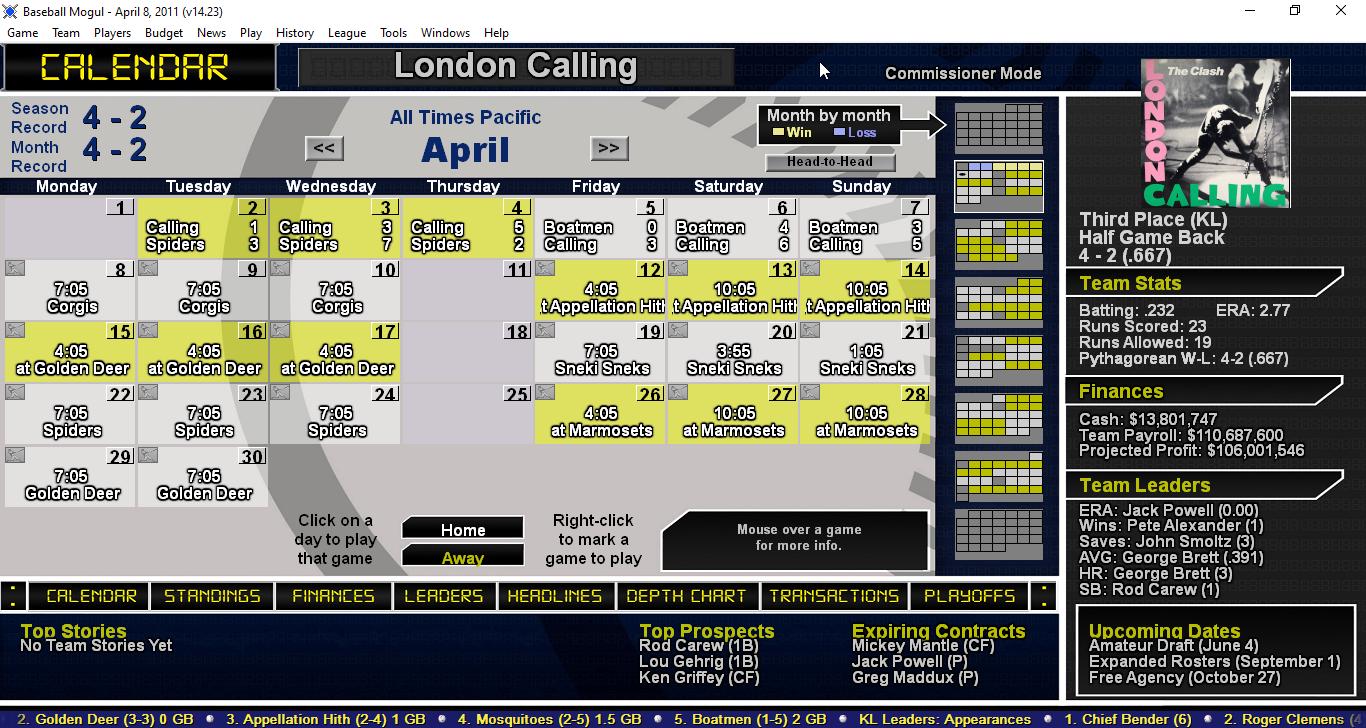 Mickey Mantle and Rod Carew sure have some wacky slashlines this early for completely opposite reasons.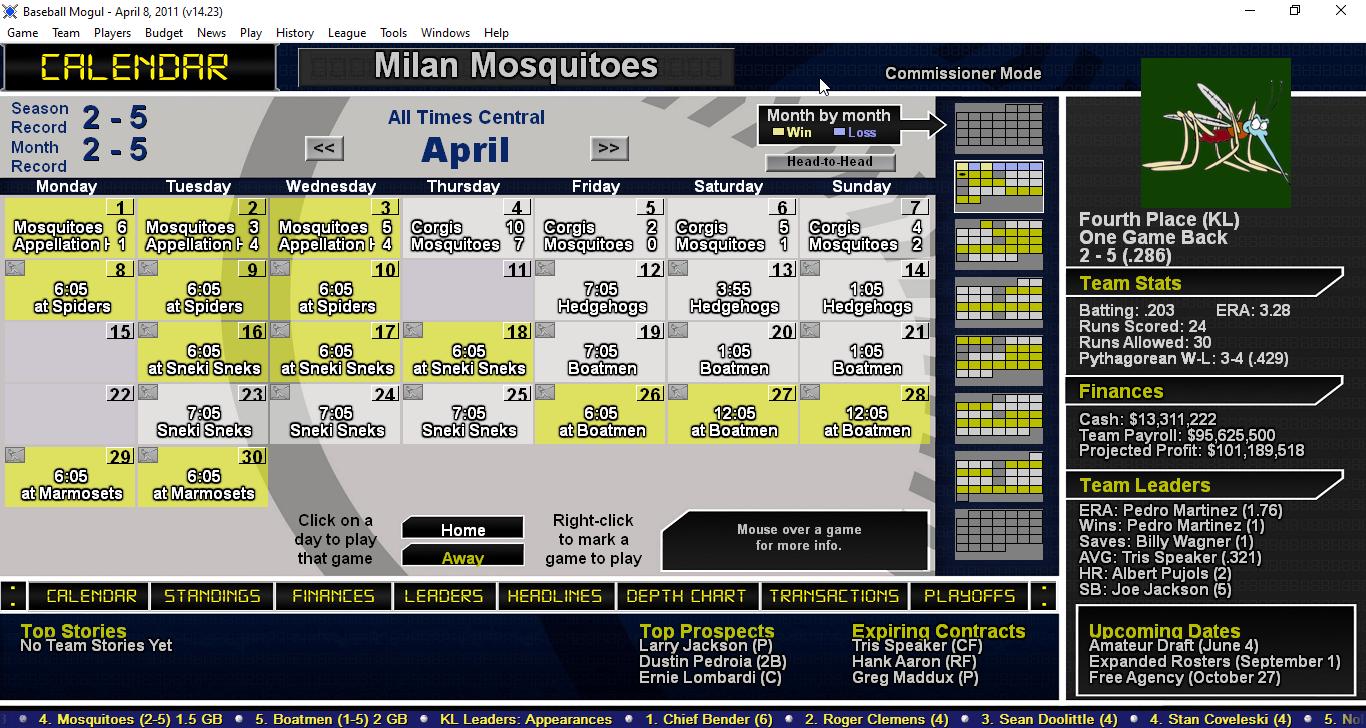 George Sisler's plague has found its way onto half your starting lineup. Unfortunate, but what else do you expect to happen to a team called the Mosquitoes?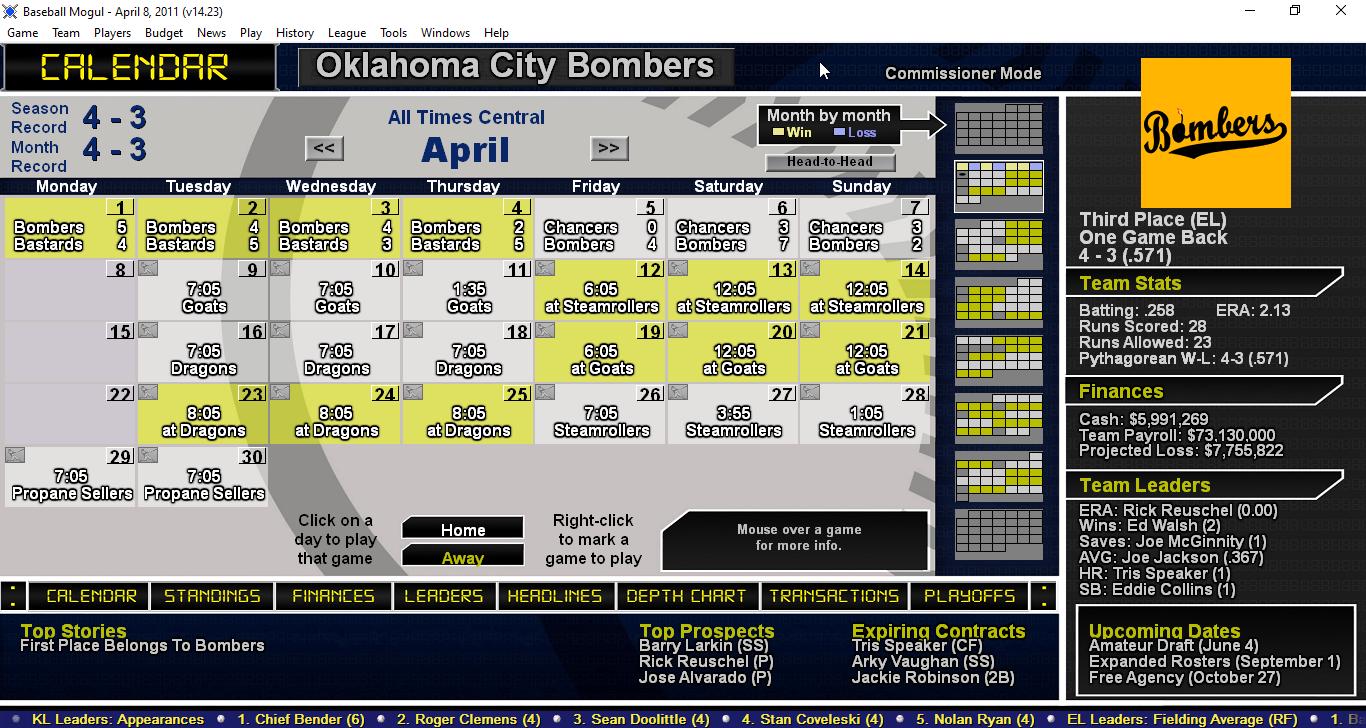 Four out of seven games decided by one run. This team will give its fans heart attacks.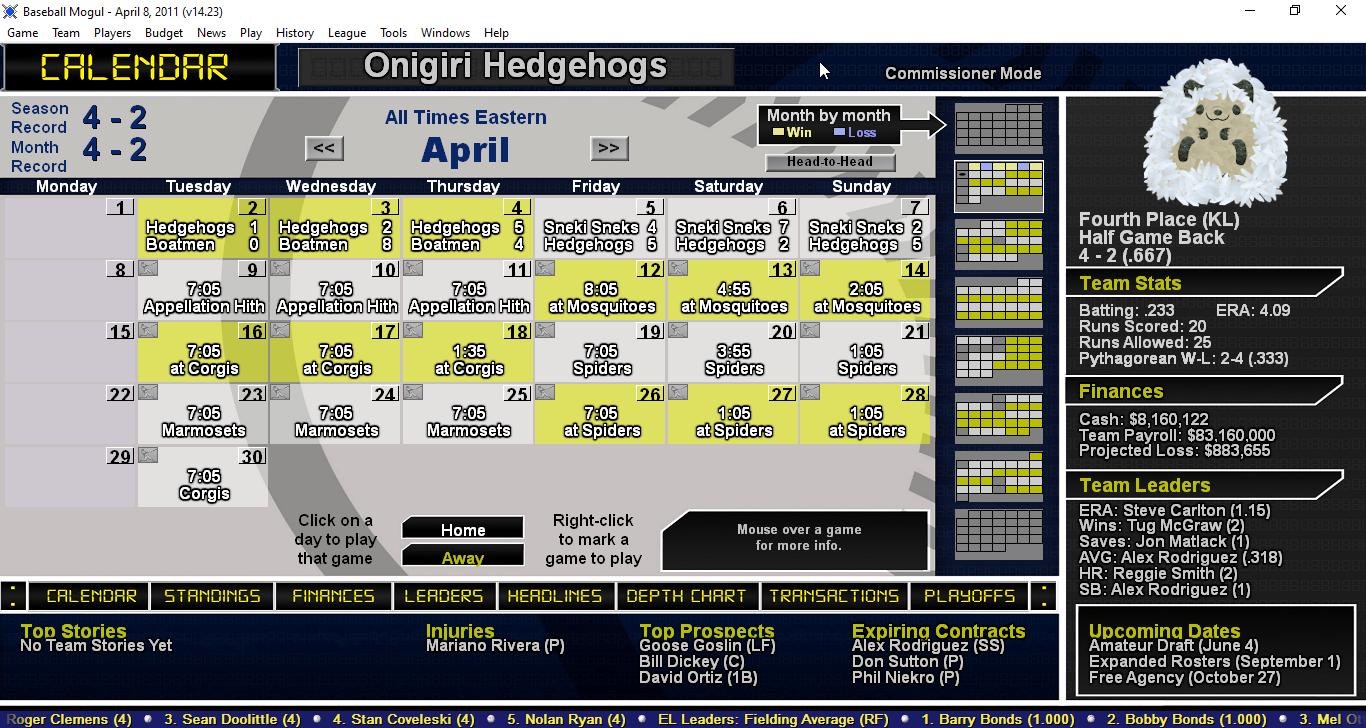 Everyone in the Super League agrees: it's time to put Ichiro in at 2B for Lou Whitaker.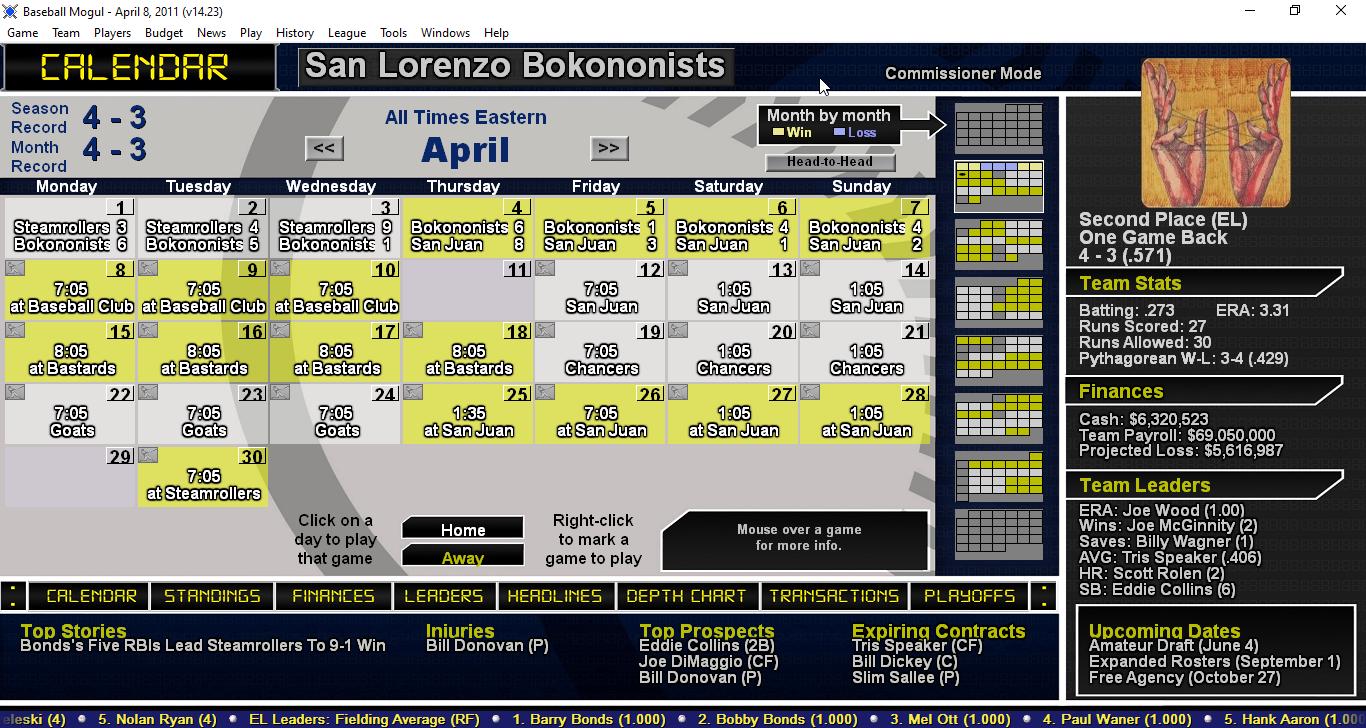 No, seriously, what is a bokonononononist? Is there a Gwen Stefani song that'll help me learn how to spell it?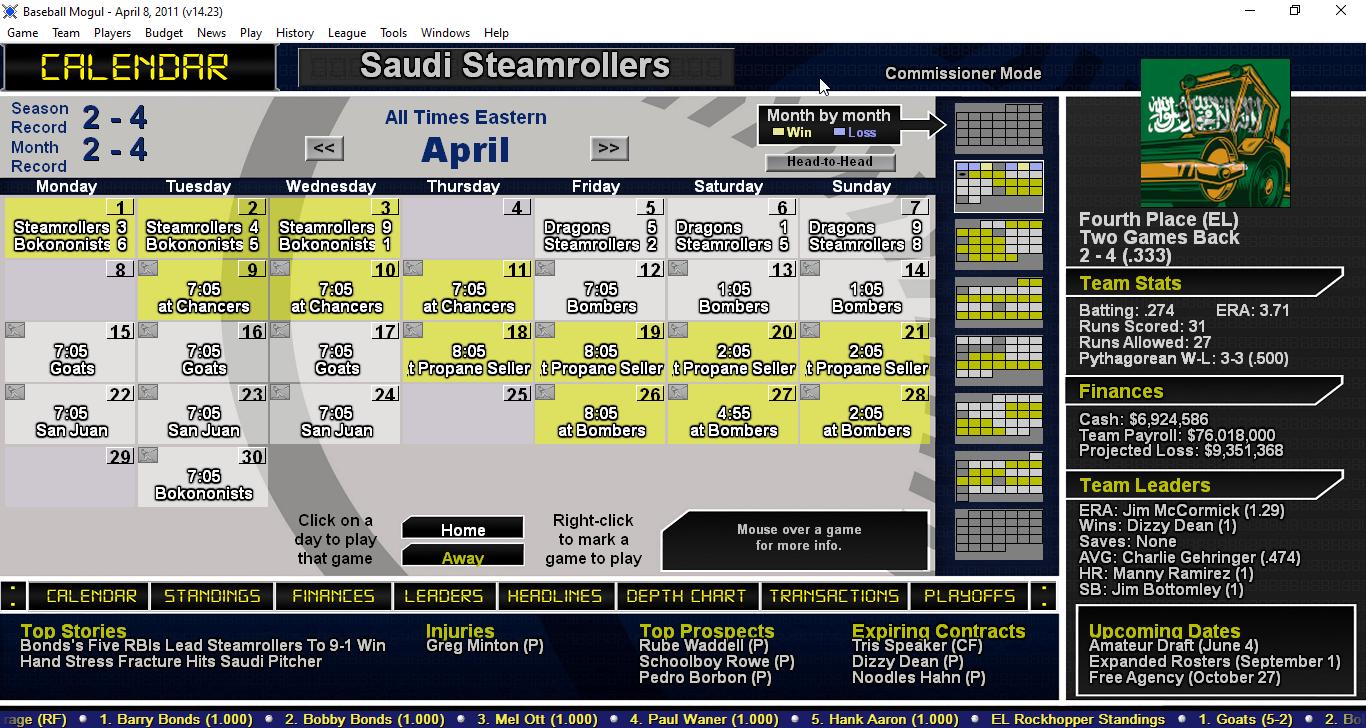 At least Gehringer is killing the heck out of the baseball?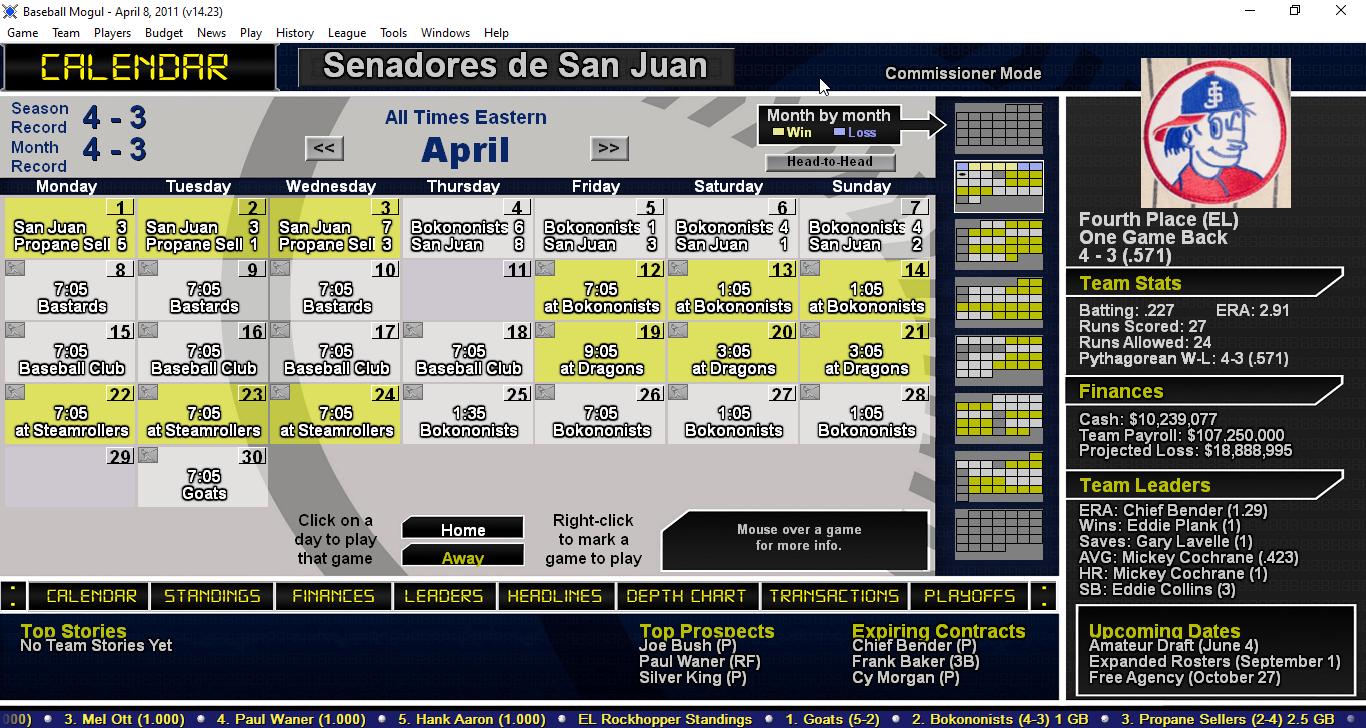 Solid start. Gonna be fun to see how the Adelie division separates itself out.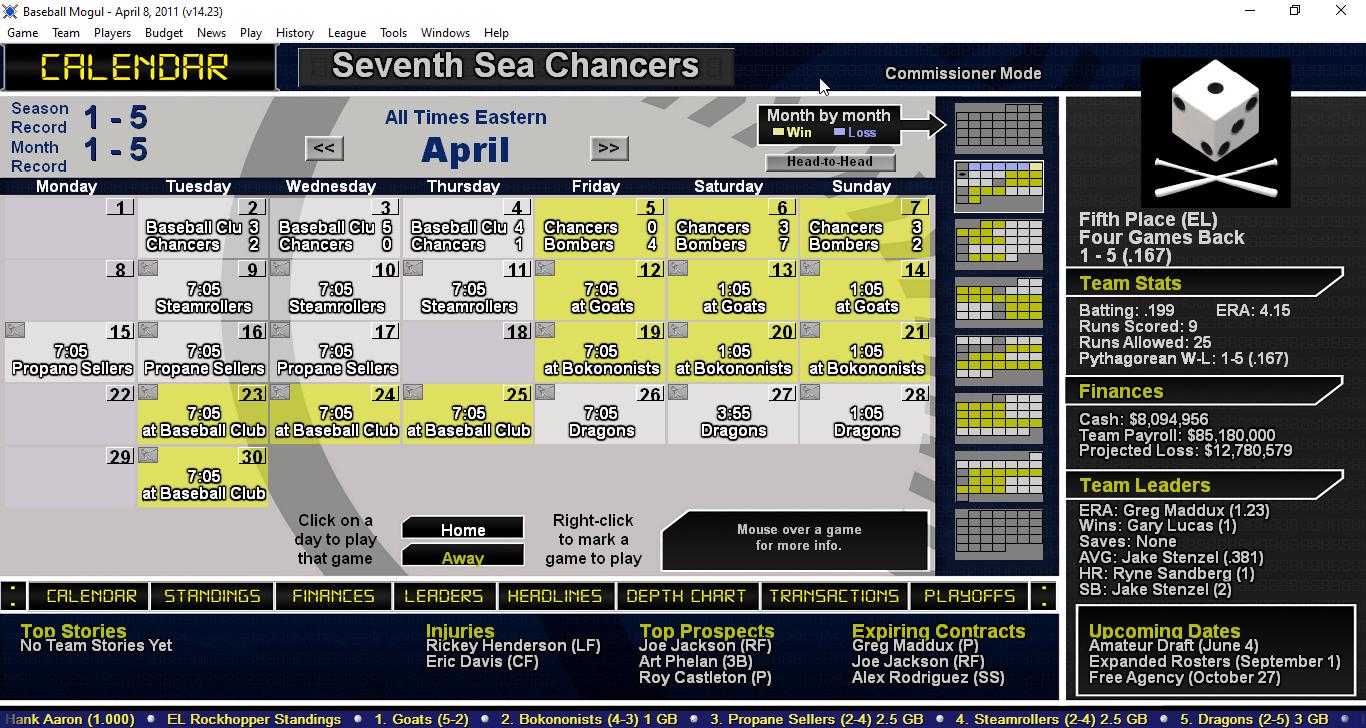 It will be very hard to win games scoring 1.5 runs per game. But, hey, pitching and defense looks good!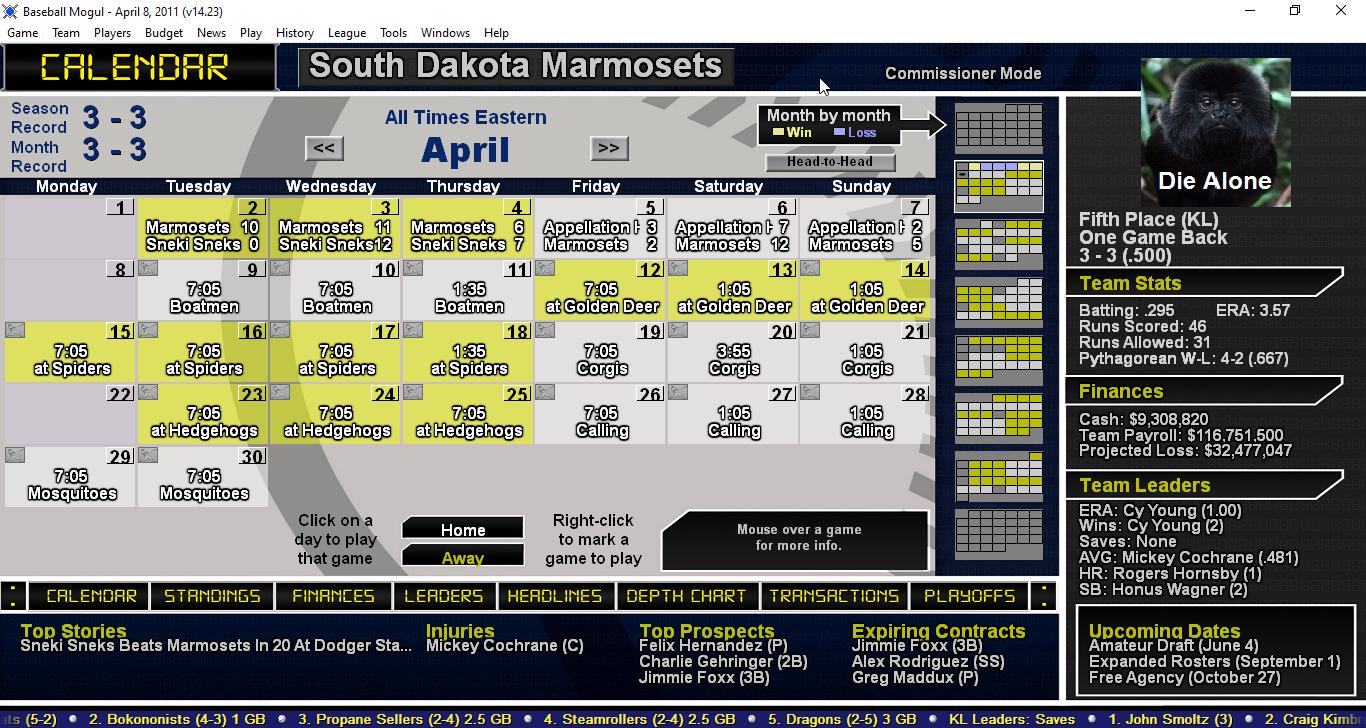 I'm very glad it's Kelsie Whitmore and not Chelsea Baker on this team these days. She would absolutely kill everyone with this level of pitching.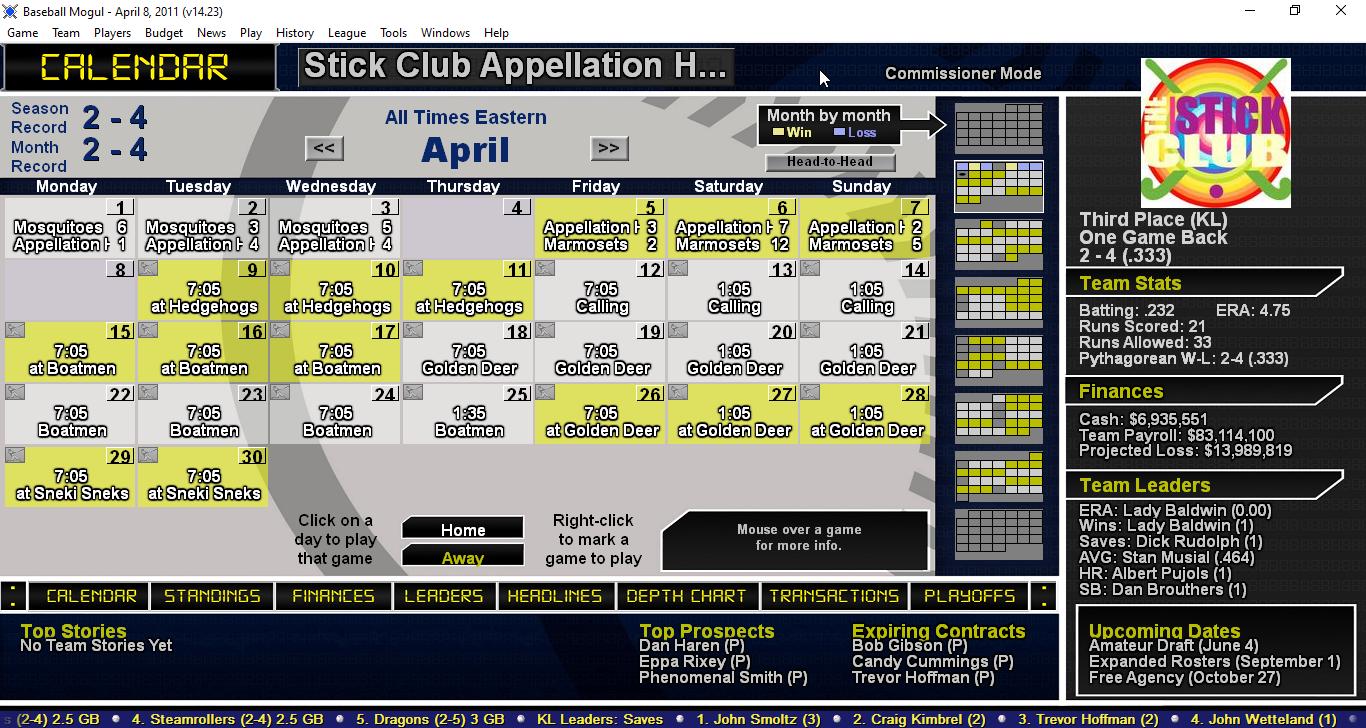 Hither and thither this team comes and goes. Stan Musial off to a great start.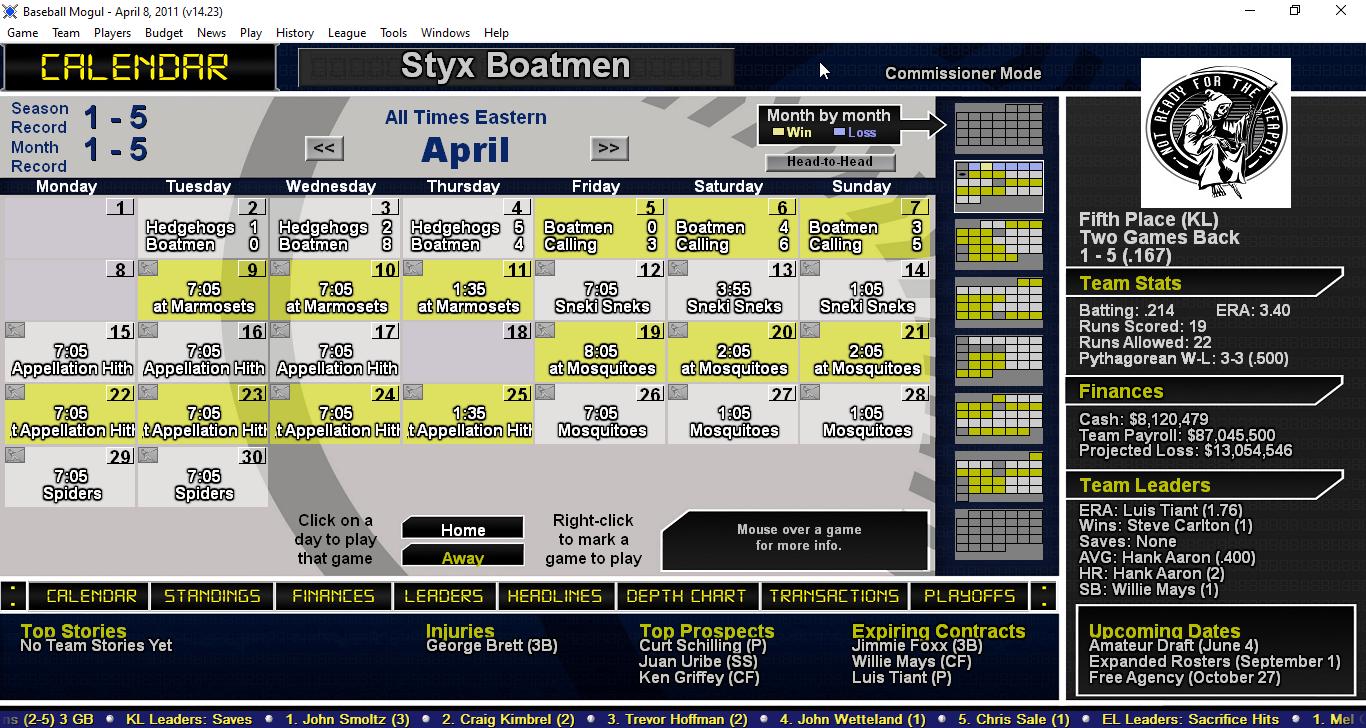 This team got a little unlucky this week. Low-event baseball can be effective if your events are stronger than your opponents, so I recommend hitting more homeruns.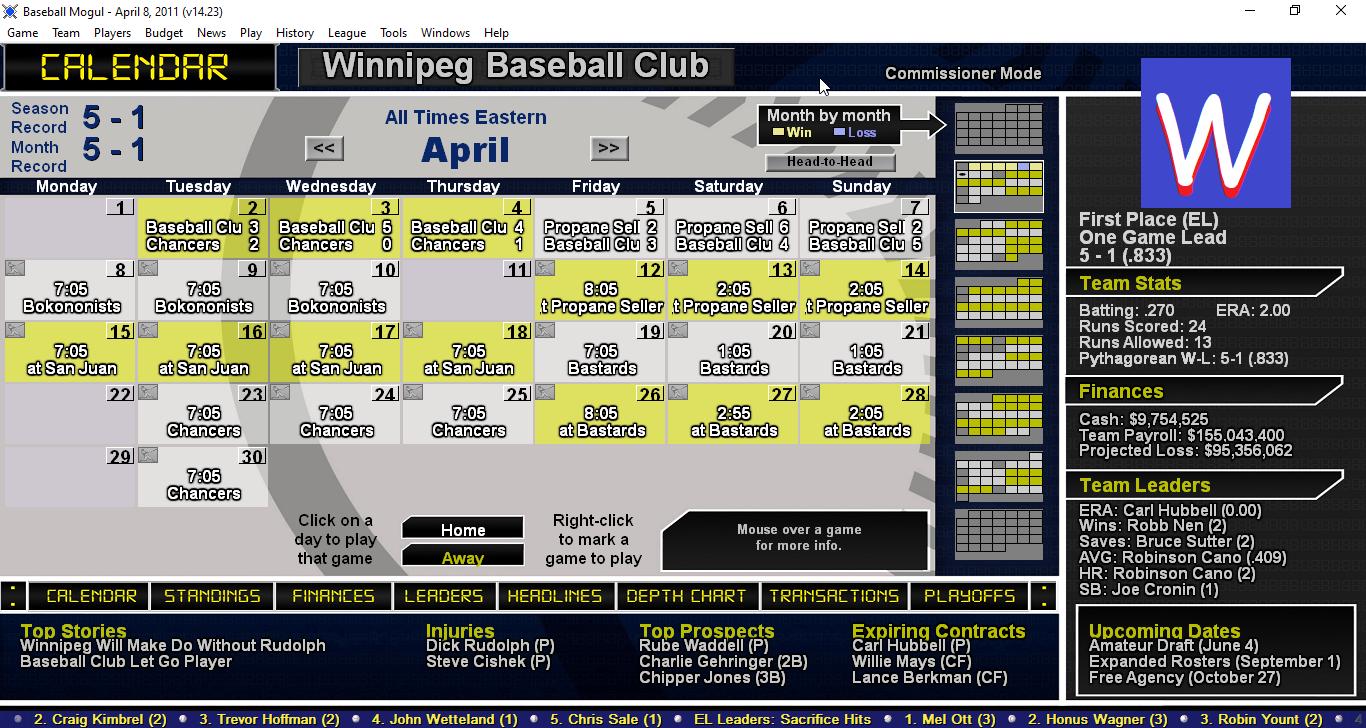 Raise the W!