Games of the Week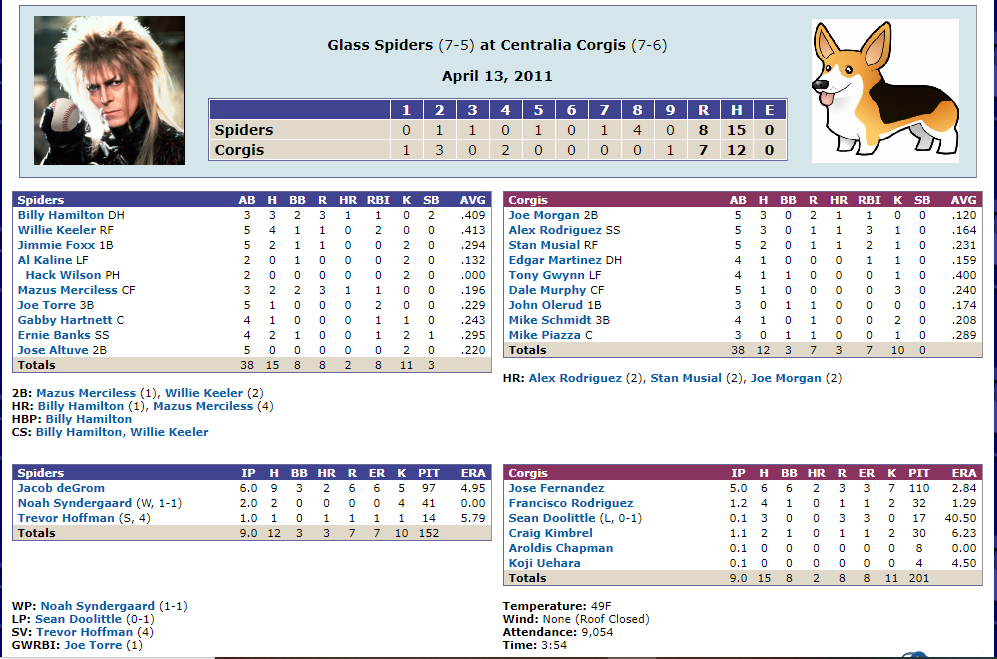 SEAN DOOLITTLE FAILS TO SPEAK TO SPIDERS, GETS EATEN IN 8-7 LOSS TO FORMER OMBUDSMAN
Dr. Doolittle is a cautionary tale (or tail if you're a groan-inducing comedy writer) about an unmarried man who learns to speak to animals via his parrot, opens a vet clinic, nearly goes bankrupt, steals a ship to travel to Africa to solve a monkey epidemic, gets robbed by pirates on the way back, and is forced to perform in the circus until he's able to retire some many years later because he was still so poor after the trip. Centralia Corgis' relief pitcher Sean Doolittle could've avoided performing in the circus, but, after blowing a two run lead in the top of the eighth, he might as well be DFC'd now (designated for circus).
Not that it was all Sean's fault. Sure, he gave up an RBI single to Willie Keeler to make it a 6-5 ballgame, but Craig Kimbrel shares some of the blame for giving up the crushing 2 RBI single to Joe Torre that gave the Spiders a 7-6 lead. A sacrifice fly from Gabby Hartnett that scored Mazus the Merciless gave the Spiders an important insurance run that prevented Stan Musial's leadoff homerun in the bottom of the ninth from doing more damage than it did. Trevor Hoffman closed the door on the Corgis, and they fell to 2-4 in one-run ballgames. A poor statistic that belies the team's early bullpen issues.
Former Super League ombudsman and Glass Spiders' owner FairGame had mixed feelings at his press conference. "It is a tragedy of justice that I should even be down here in the mire of sub-par misery. The ombudsman of the Super League cannot bloom in the dark swamp. A pox on those who have cursed me upon a black star. Mazus the Merciless shall live up to his name and I shall be back above in due time. Mark my words."
Jampact, the owner of the Centralia Corgis, threatened to withhold future pictures of Hype should her team continue to struggle in one-run games. "Now, I'm not saying that Pungry explicitly has an anti-Cubs bias, but it seems awfully suspicious that my bullpen full of former Cubs is doing so poorly. I'm sure Smasher would love to hear about any possible anti-Cubs commissionering, if such a thing was happening. But I'm sure it isn't, and these sort of one-run losses will sort themselves out eventually. Or I'll sort him out," Jampact said at her press conference, before siccing Hype on the reporters and ending the press conference.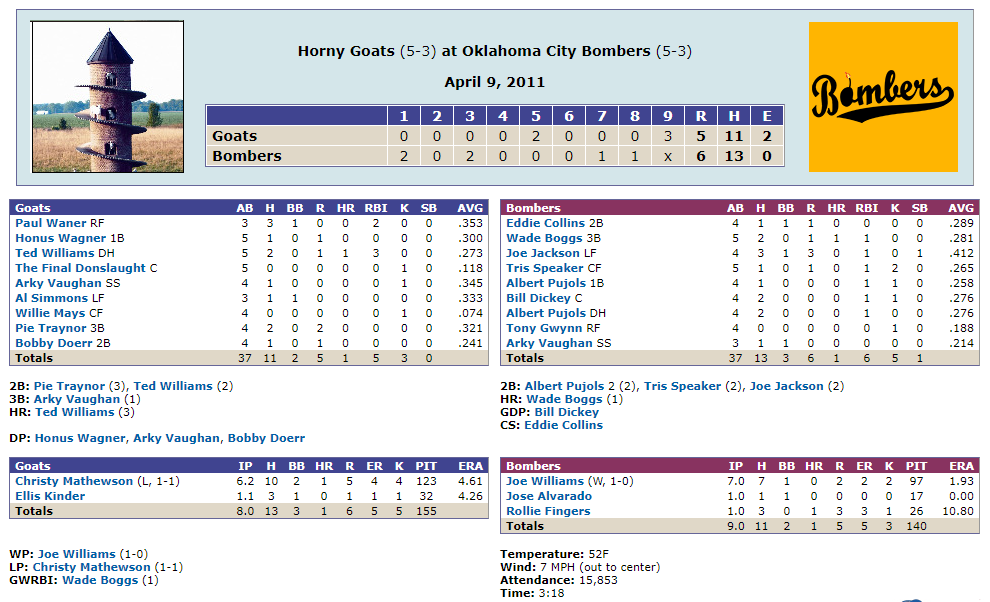 FINAL DONSLAUGHT LIVES UP TO HIS NAME AS FINAL OUT AS GOATS' COMEBACK FALLS JUST SHORT IN 6-5 LOSS
The Oklahoma City Bombers have been in the Super League long enough to know that you cannot trust Rollie Fingers at any time. Going into the ninth, the Bombers had built a 6-2 lead thanks to Joe Williams' solid 7.0 innings, 1 run start, but Fingers nearly burned it all down. A one-out RBI single from Paul Waner cut the lead to 6-3, then Ted, not Thed, Williams launched a two run homerun with two outs to make it a 6-5 ballgame, and bring up The Final Donslaught with the tying run at the plate. Donslaught worked the count full before striking out to a Fingers' Frisbee, ending the Horny Goats' comeback, and giving the Bombers the win.

Mentholmoose, the Bombers' owner, defended his closer in his post-game interview. "Listen, Rollie has always had everything under his control. Everything he does is carefully calculated. Think back to the Marauder days. The Merry Marauder's Fingers would purposely blow saves to his alt's teams so that they could all eventually meet up in the World Series. It's no different here. No, I'm not saying I'm the alt of Marauder as well. Probably. At least I'm not Mooseontheloose's alt, as was demonstrably proven when I defeated him in Moose-tal Combat all those years ago. What was I saying? Oh yeah, Bombers 4 life."

Forzelt's Horny Goats appeared to have been shaken by the loss, as the team went on to lose every game in a brutal 0-6 week after it started off with this near-comeback. "I've never been one for optimism, being born in South Dakota and a part of a triad of 'friends' that refuse to pick each other up from the bar. Heck, I fled for Hawaii the first chance I got. The Final Donslaught was the Final Donsl-out today, but he'll get chances to make up for it," said Forzelt. "I just hope he does better with these chances than a certain someone out there who I'd like to send through a thresher."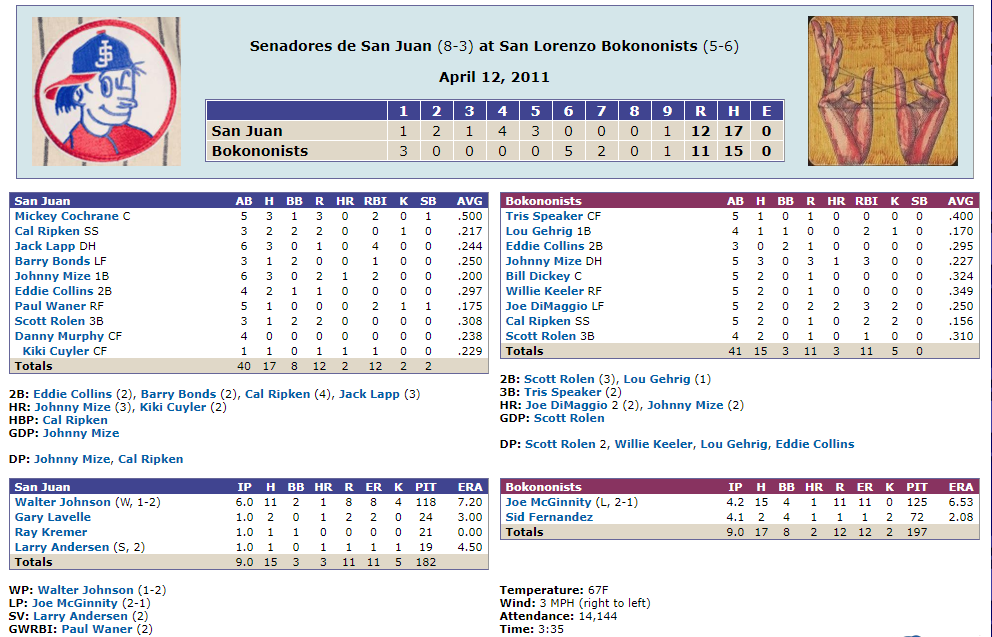 BOKONONISTS IRONICALLY-ON-PURPOSE FALL SHORT IN 12-11 LOSS TO SENADORES
According to Wikipedia, the only place to learn about what happens in novels on high school required reading lists, Kurt Vonnegut's novel Cat's Cradle ends with the leader of a religion saying that, if he was a younger man, he'd place a book about human stupidity at the top of a nearby mountain and commit suicide while thumbing his nose at God. Well, Monicro is young enough to be able to do that, as their team, the San Lorenzo Bokonists, seemed to purposefully fall one run short of tying the San Juan Senadores in a 12-11 loss. Cal Ripken struck out looking to end the game right after Joe Dimaggio hit a solo homerun to make it a one run ballgame, and oystertoadfish's Senadores hung on.
"See, you just don't get it, man," said Monicro in their postgame interview. "Just think about the themes our team touched on in our performance. Futility in the face of death, self-awareness as to the humor in it all, losing to the impoverished and uncultured island nation of San Juan, and nine players in the lineup a la the ice-nine in Bokono's mouth. I'm going to get an A this quarter in AP English from Miss Sparks this year simply by showing her the results of this fantasy fantasy baseball simulation. It is truly the most post-modern and intellectual work anyone at Anime High School has ever seen."
oystertoadfish seemed to have his mind on things other than the game. "I just really hope we can parlay our hot start to a playoff spot in the Sub-Par and earn a rightful promotion to the Super League. In the Australian Football League, you can finish first in your division, and still lose your chance to make the playoffs by finishing third in your quadrant, or twelfth in your circumference," said the Senadores' owner. "It's really quite simple. You need only earn at a tuppence pace every fourthnight in order to take home a playoff spot in the matrix, then continue that pace while beating off other-dimensional foes to win the parallel world ballasts, and once that's clinched you've basically won your kumquat and a championship is soon to follow. Just take a look at this simple flowchart I've made highlighting how it all works."
oystertoadfish then held up said flowchart, which drove most of the reporters in the room to madness, and I dare not attempt to recreate it lest I succumb as well.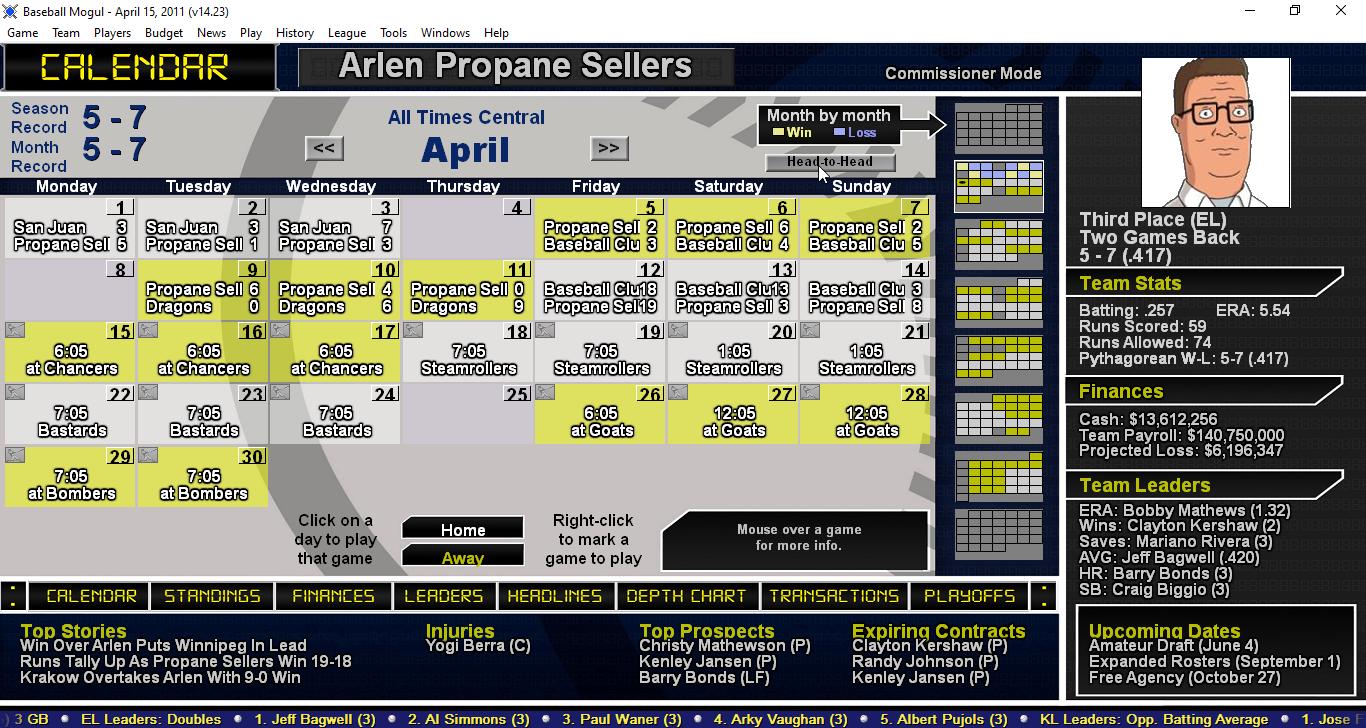 Try scoring 19 runs every game instead of just one game.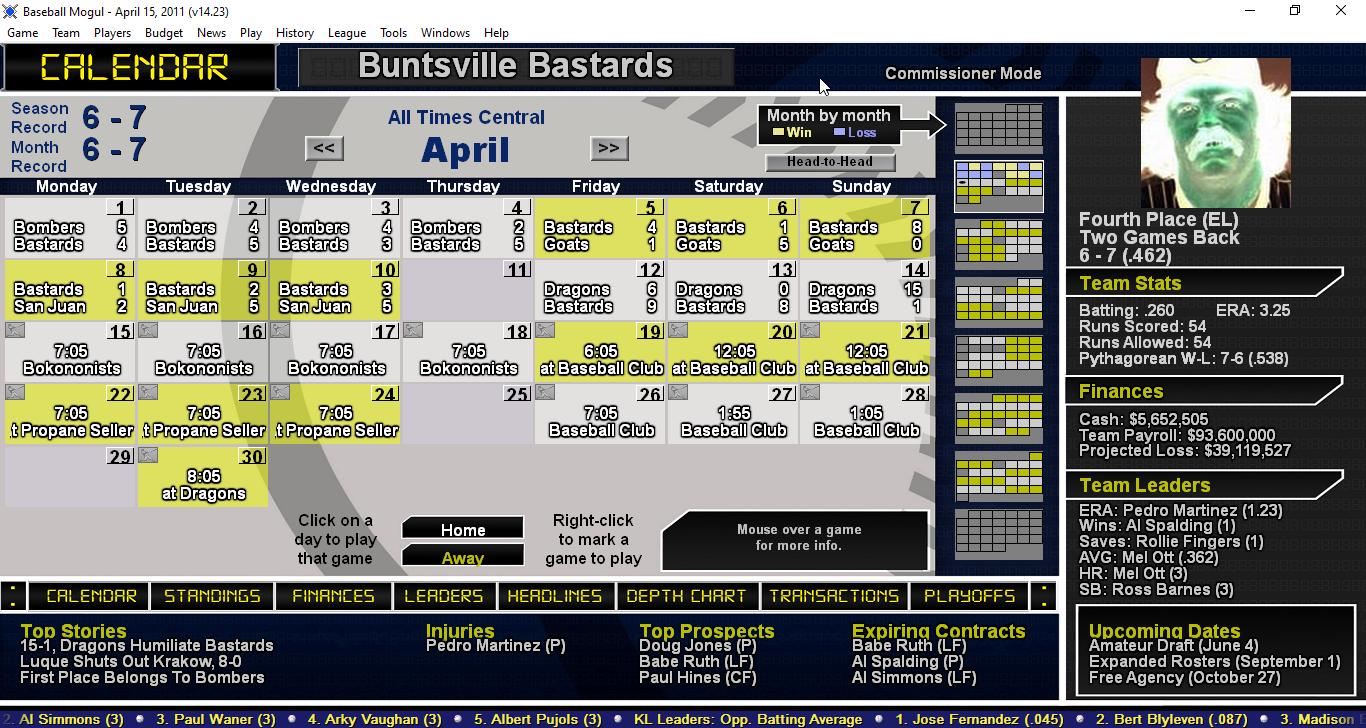 Babe Ruth refuses to bunt. I think it's time to get this loser off the bastards of Buntsville.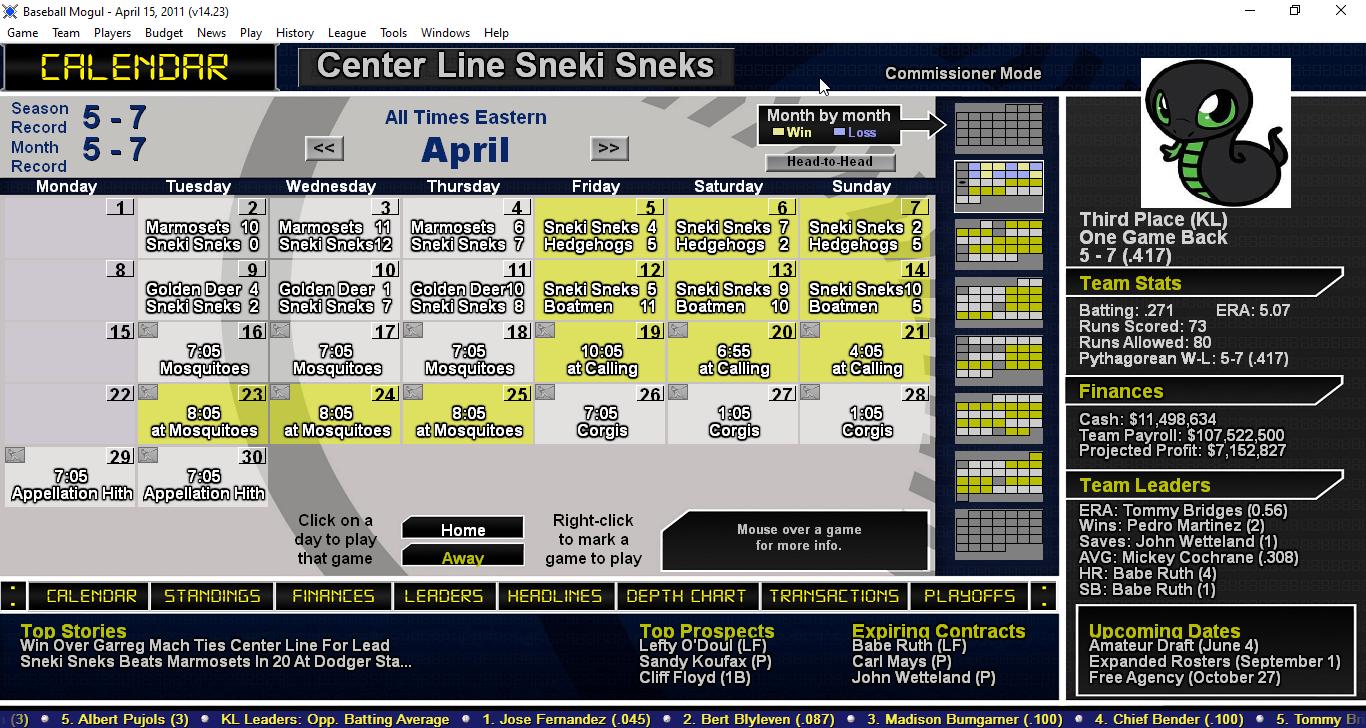 Some guy named Ken Hill has a 0.00 ERA through 6 innings on a team with a collective ERA of 5.07. That's wild.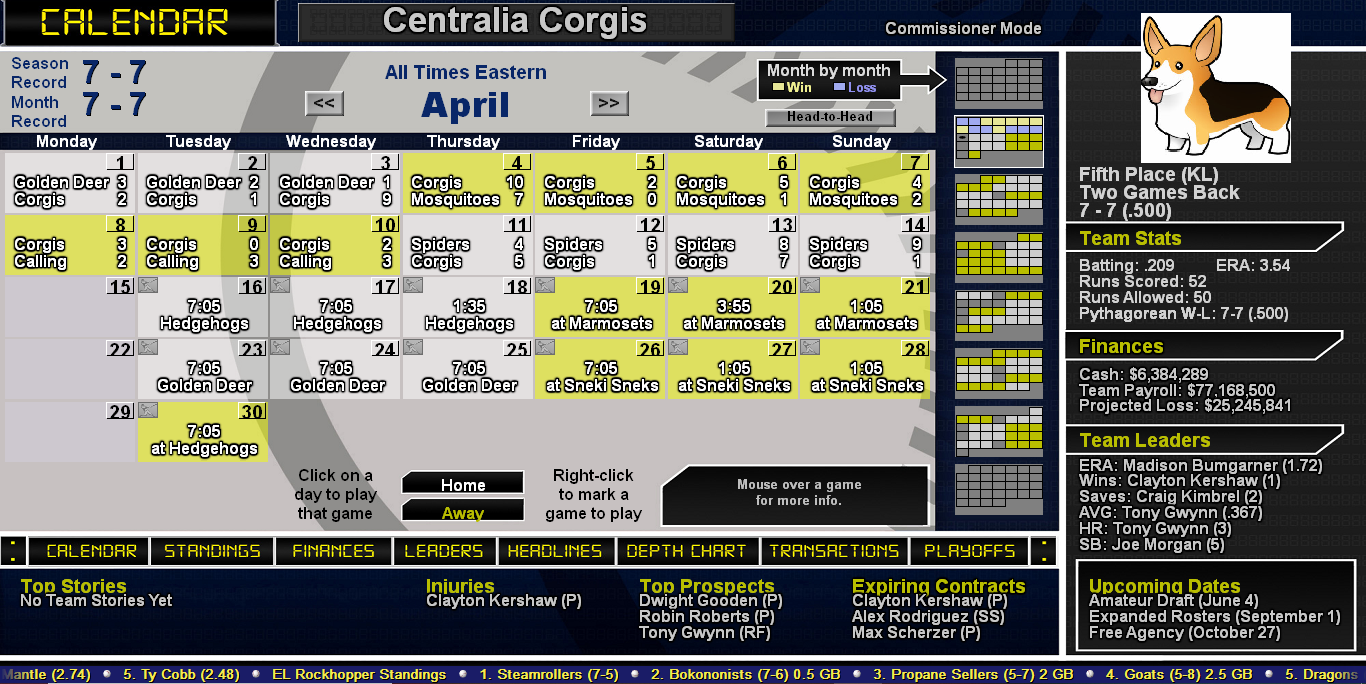 Finally a day off for the overtaxed Corgis. Hype brings some energy, but not sure this team could last much longer without one.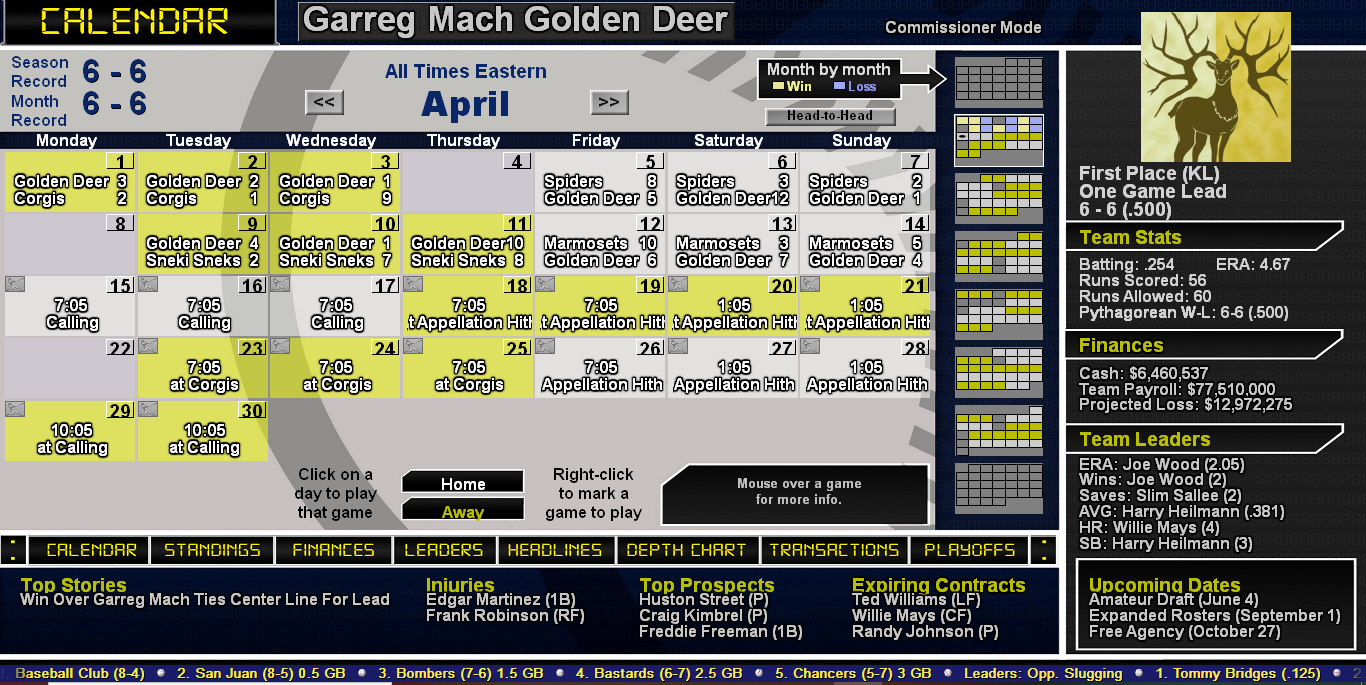 Walter Johnson is killing Pedro Martinez out of spite for not being in the rotation.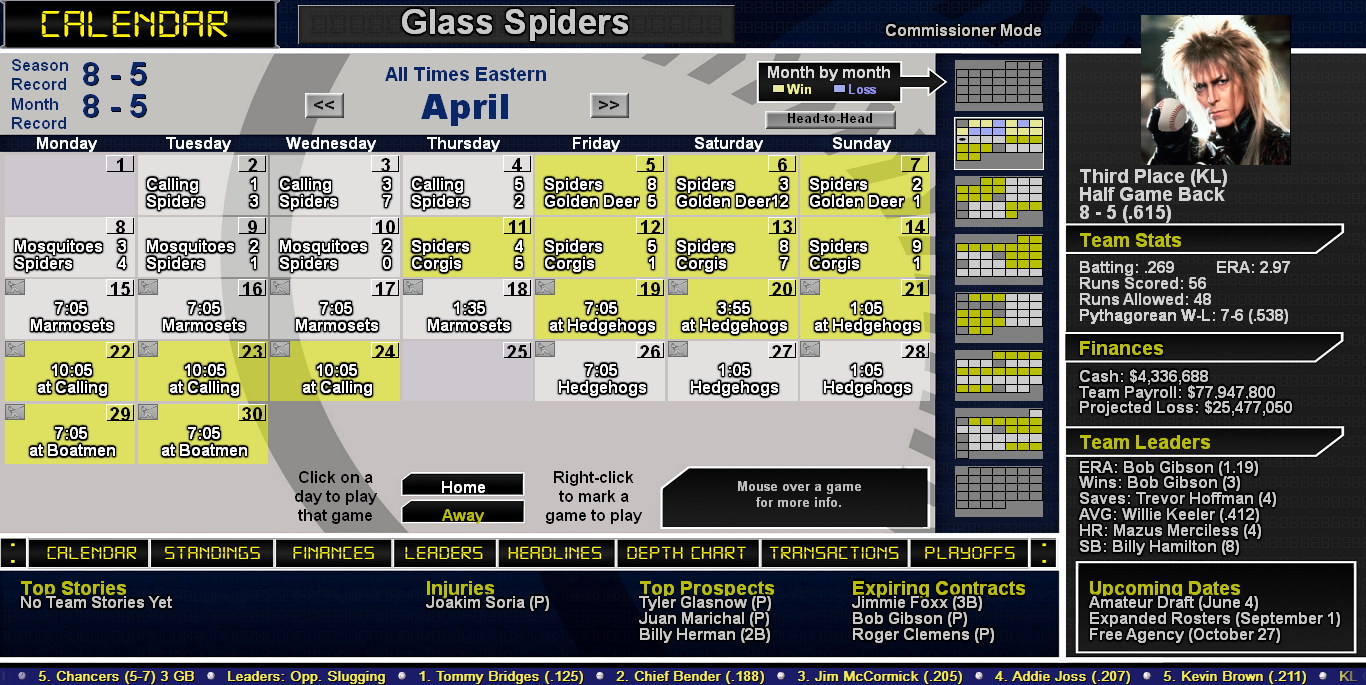 That Mazus guy sure knows how to hit homeruns and nothing else.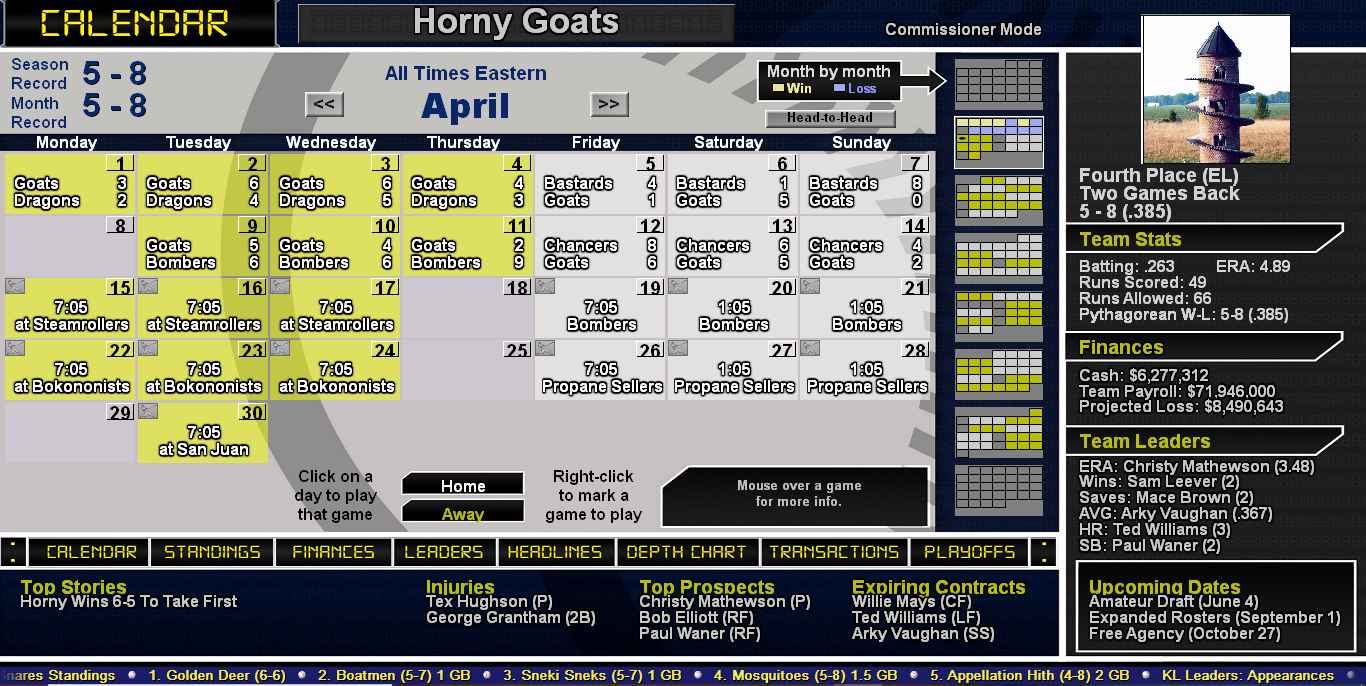 I may have to adjust the Final Donslaught's numbers. Rough week.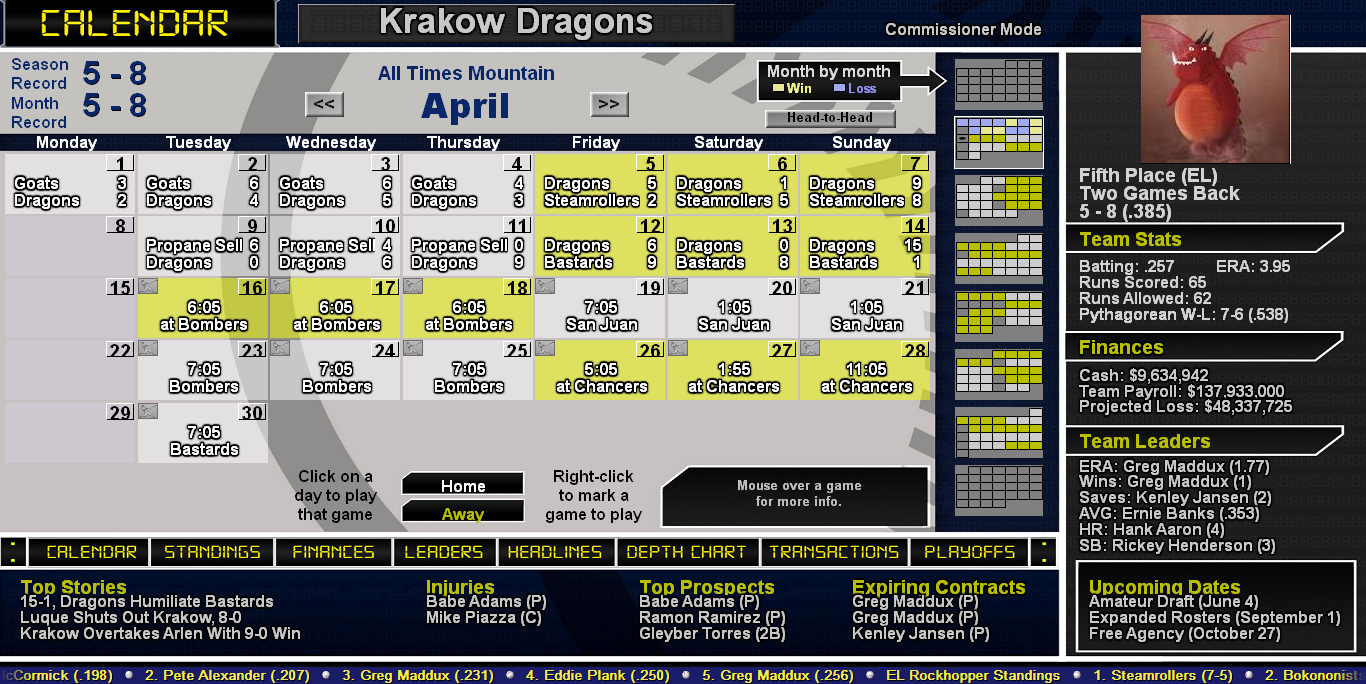 What a fascinating Jekyll and Hyde team. Everyone else in the sub-par loves some one-run games, but these guys just play blowouts!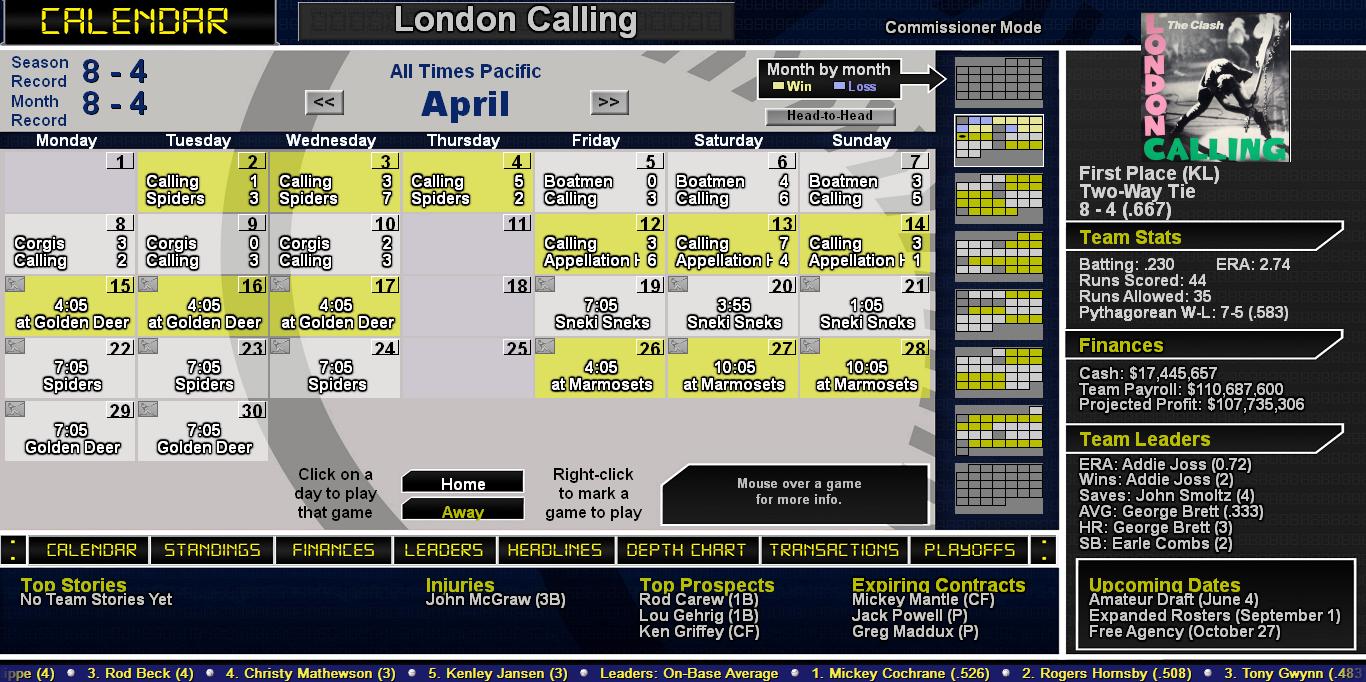 If you go 4-2 for the entire season, you'll probably win the league.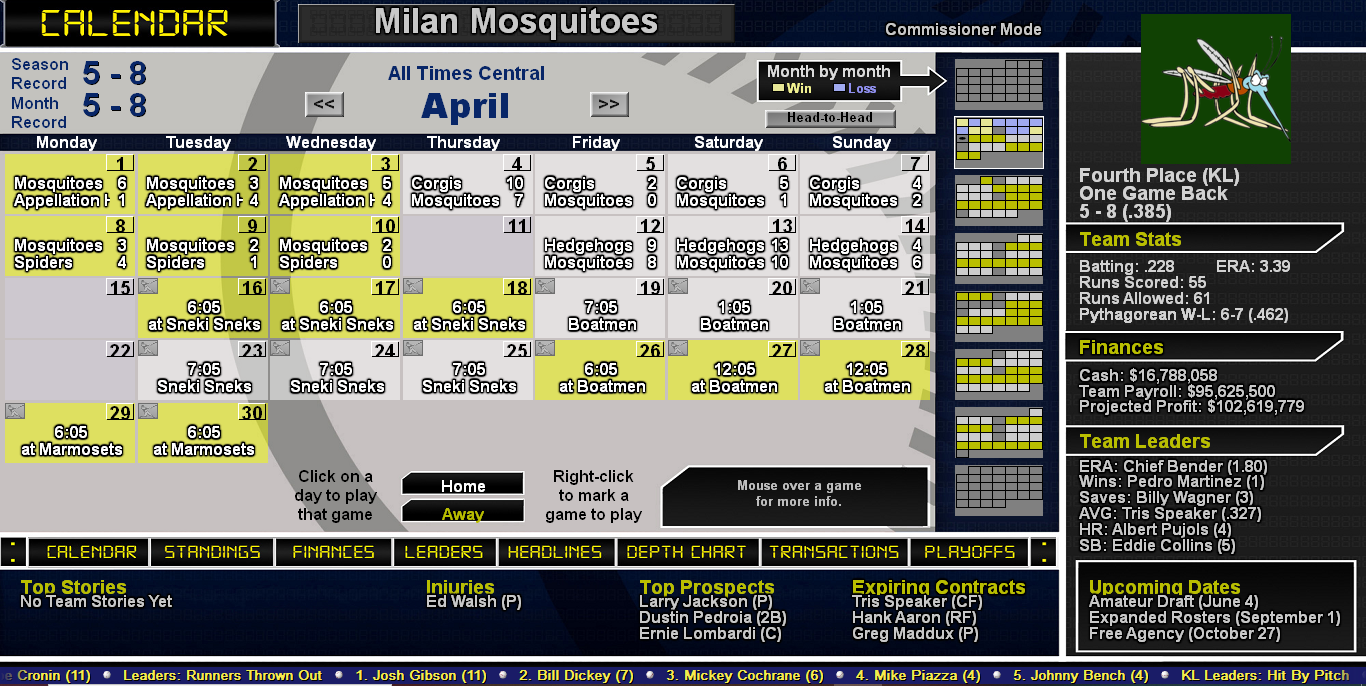 I know the pain of having 3 players hitting under .170 in the starting lineup, as a Mariners fan.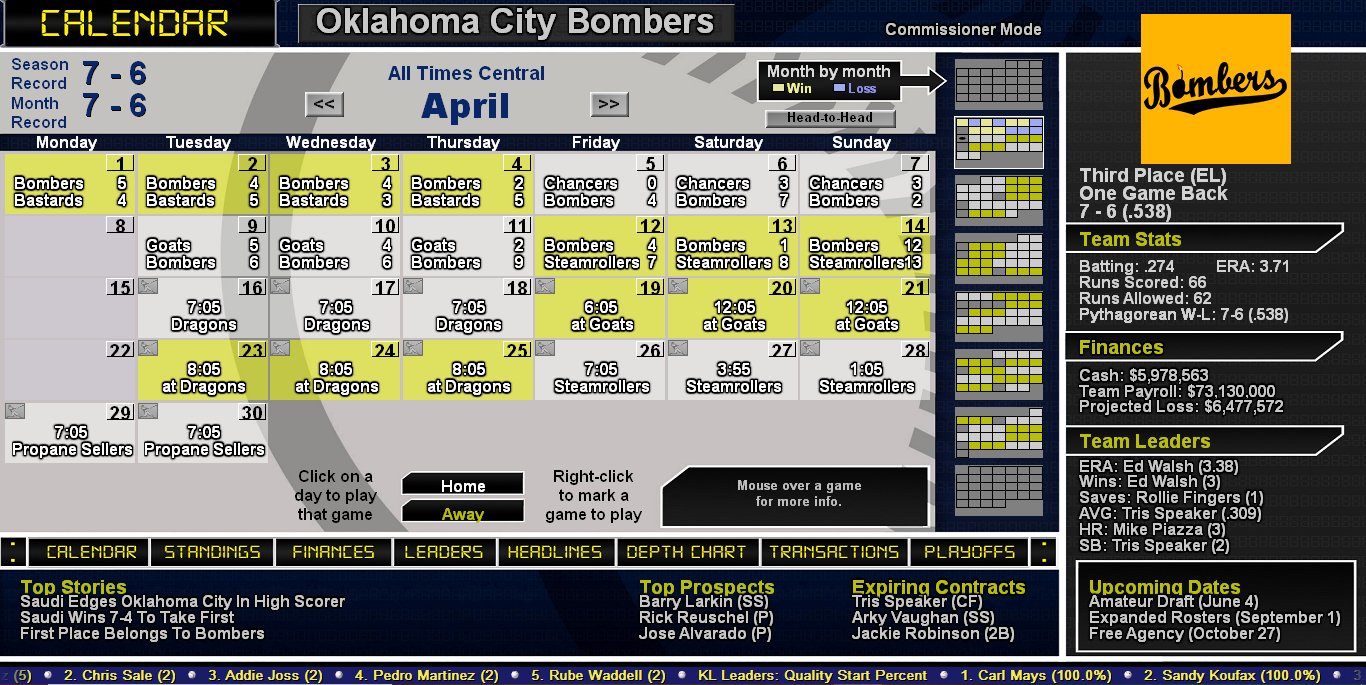 Beet takes round one of the veteran super league owner grudge match.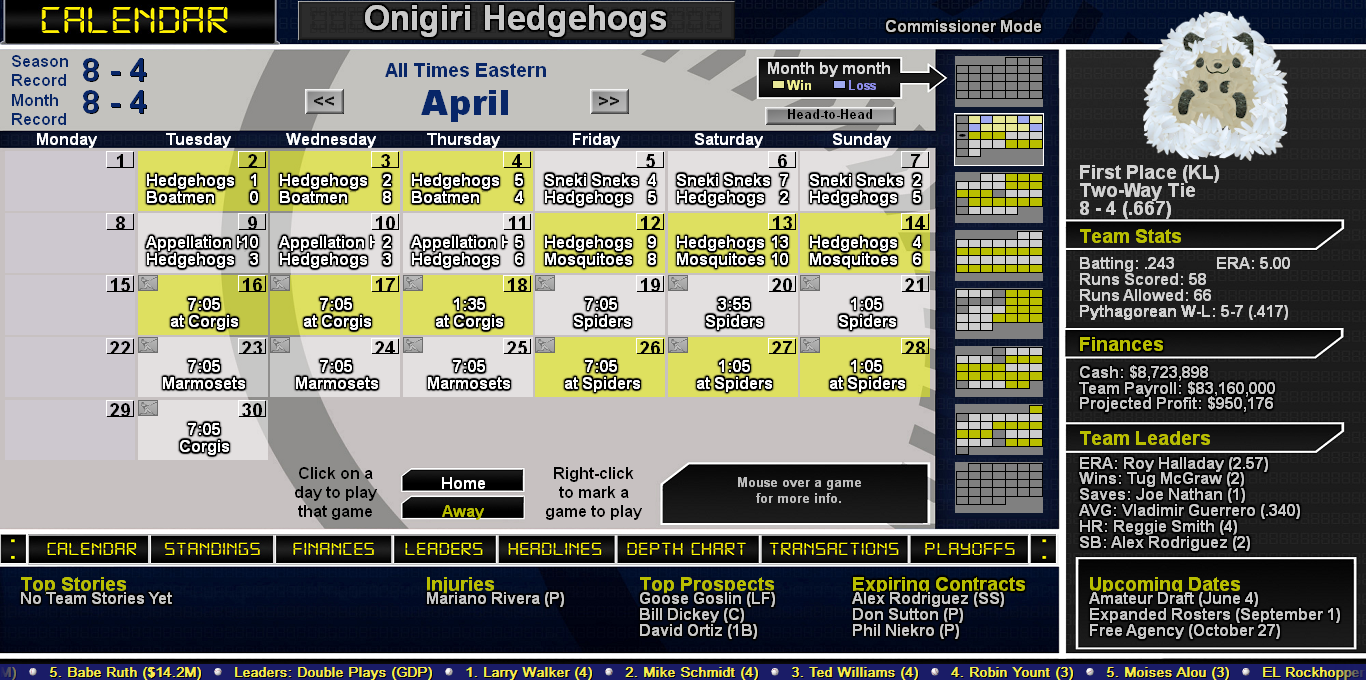 6-0 in one-run games and a 5-7 pythag probably means regression eventually but ride the wave while you're on it. Team of destiny?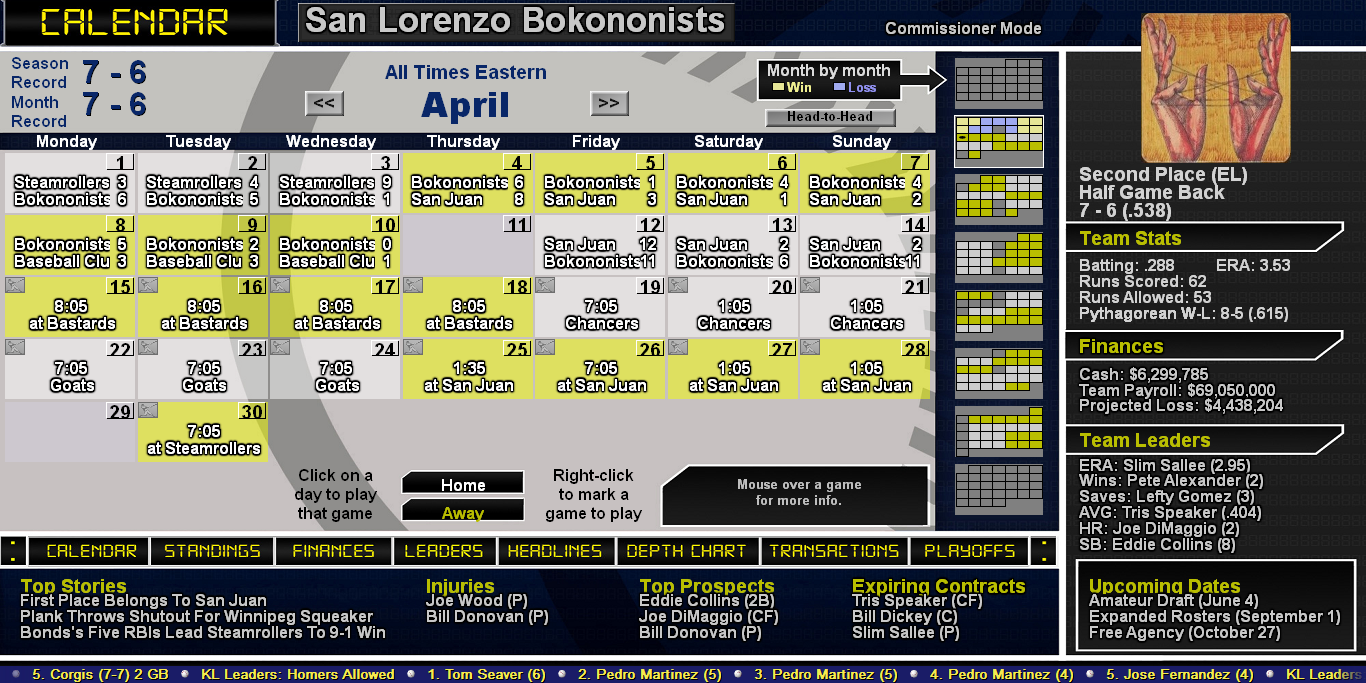 The cat's in the cradle with a silver spoon / Monicro ought to call up Bobby Abreu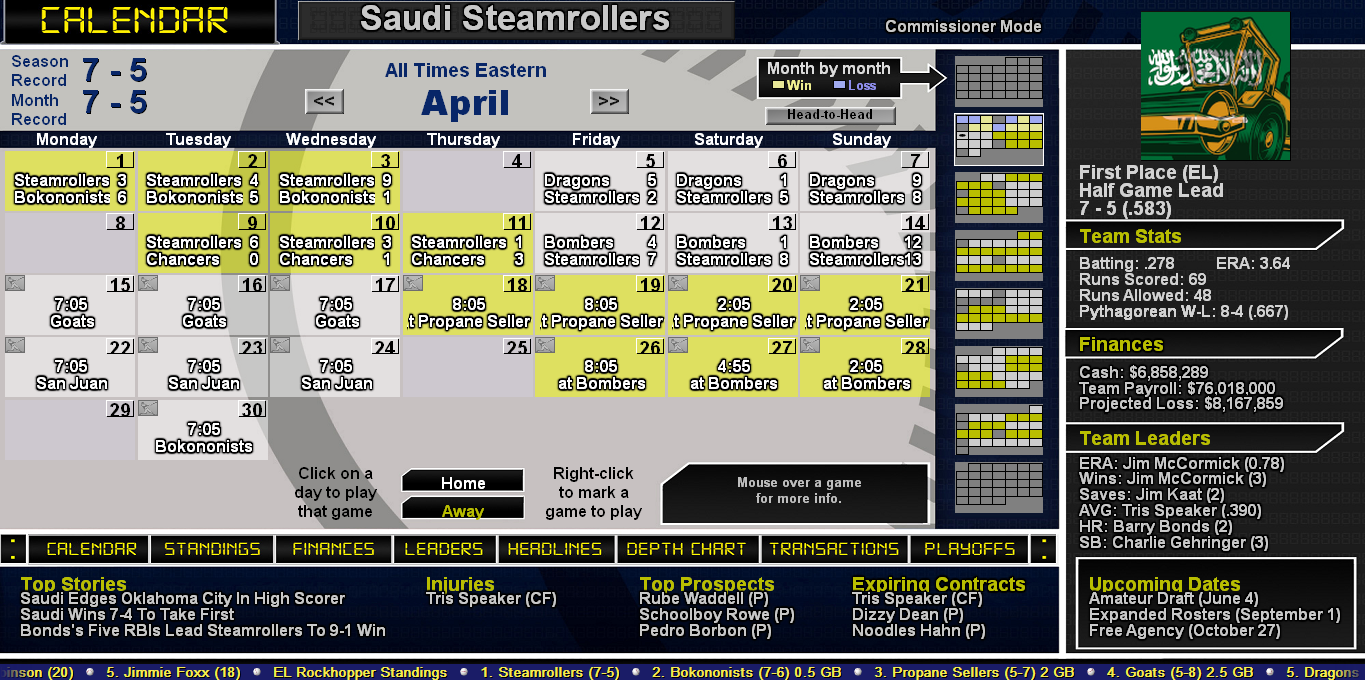 That Speaker injury is unfortunate considering he's hitting at an MVP level, and Cy Young candidate Jim McCormick can only pitch every five days.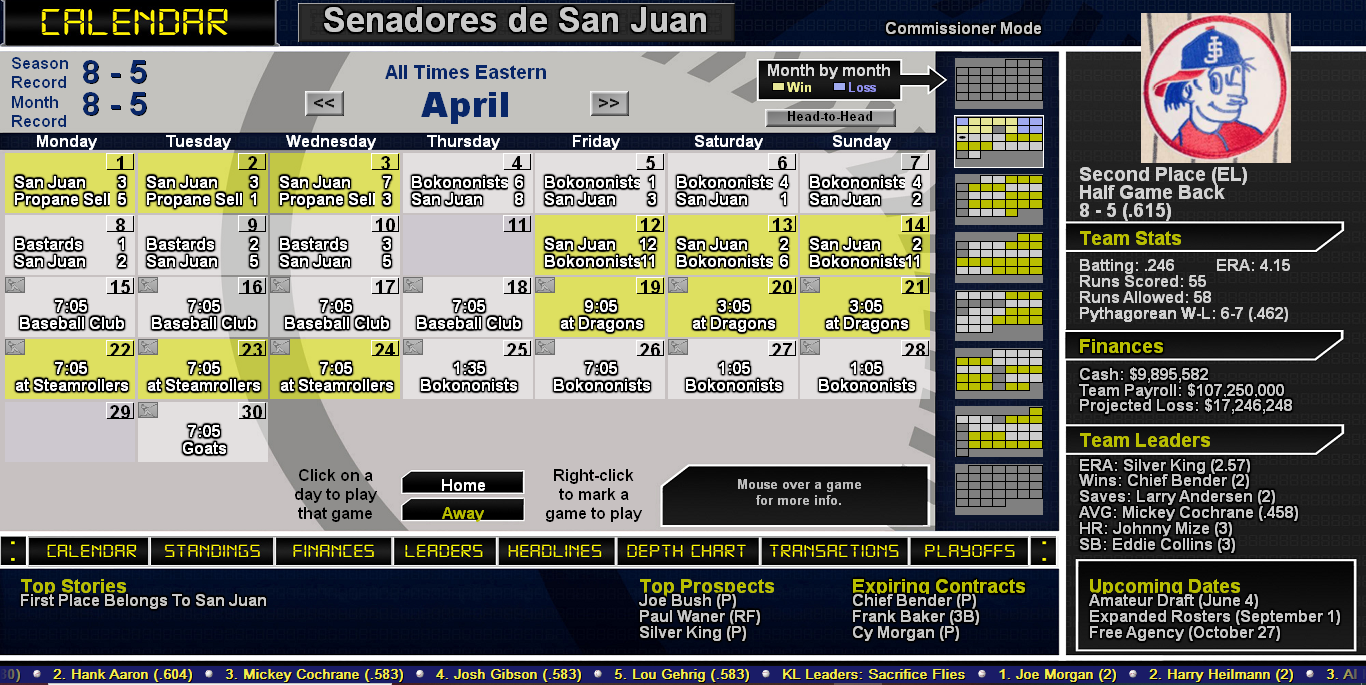 Jesus Christ, Mickey Cochrane. Single-handedly carrying this team.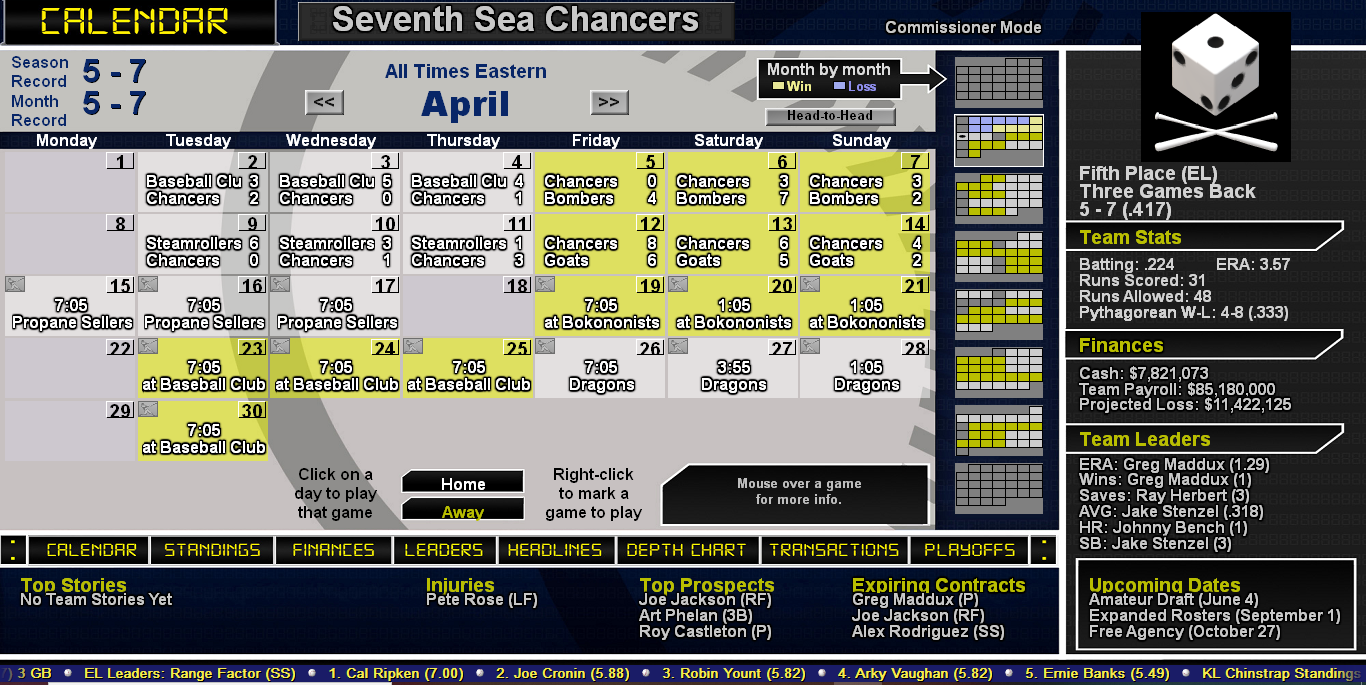 Four game win streak! Heck yeah.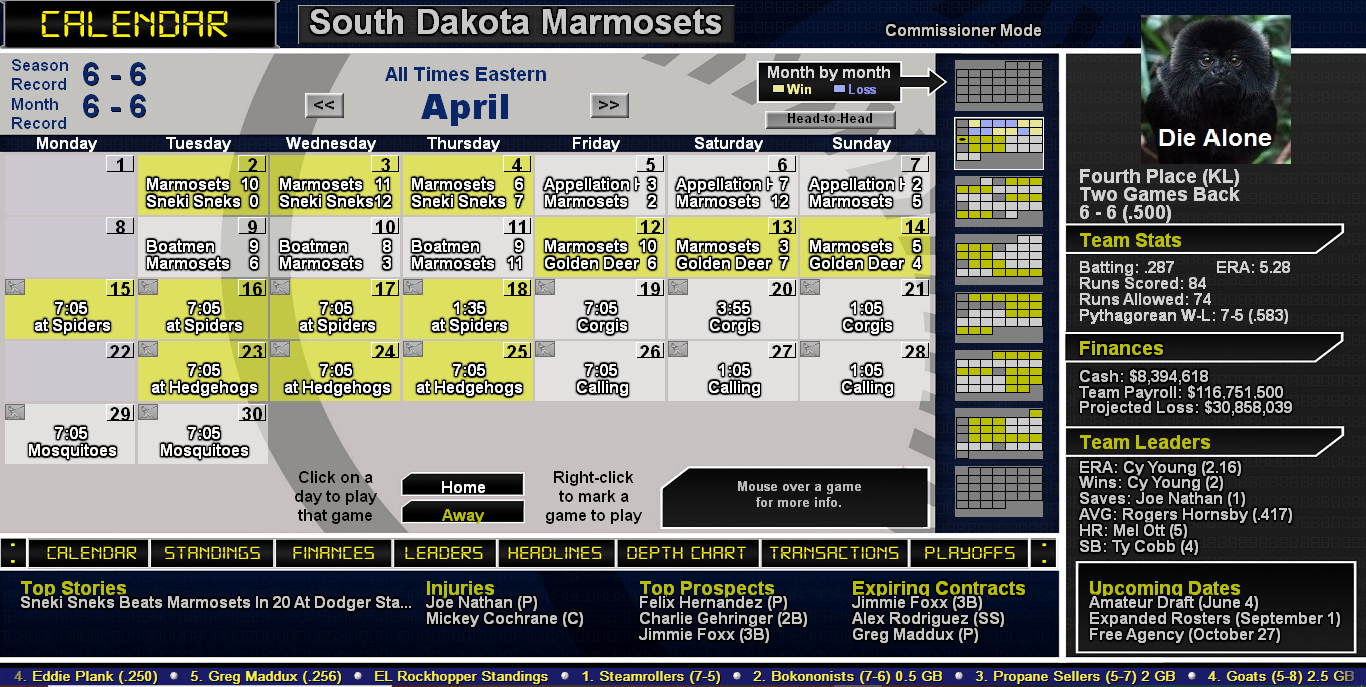 You've tried outscoring your pitching, but have you tried outscoring them more? Going to be hard with Cochrane out.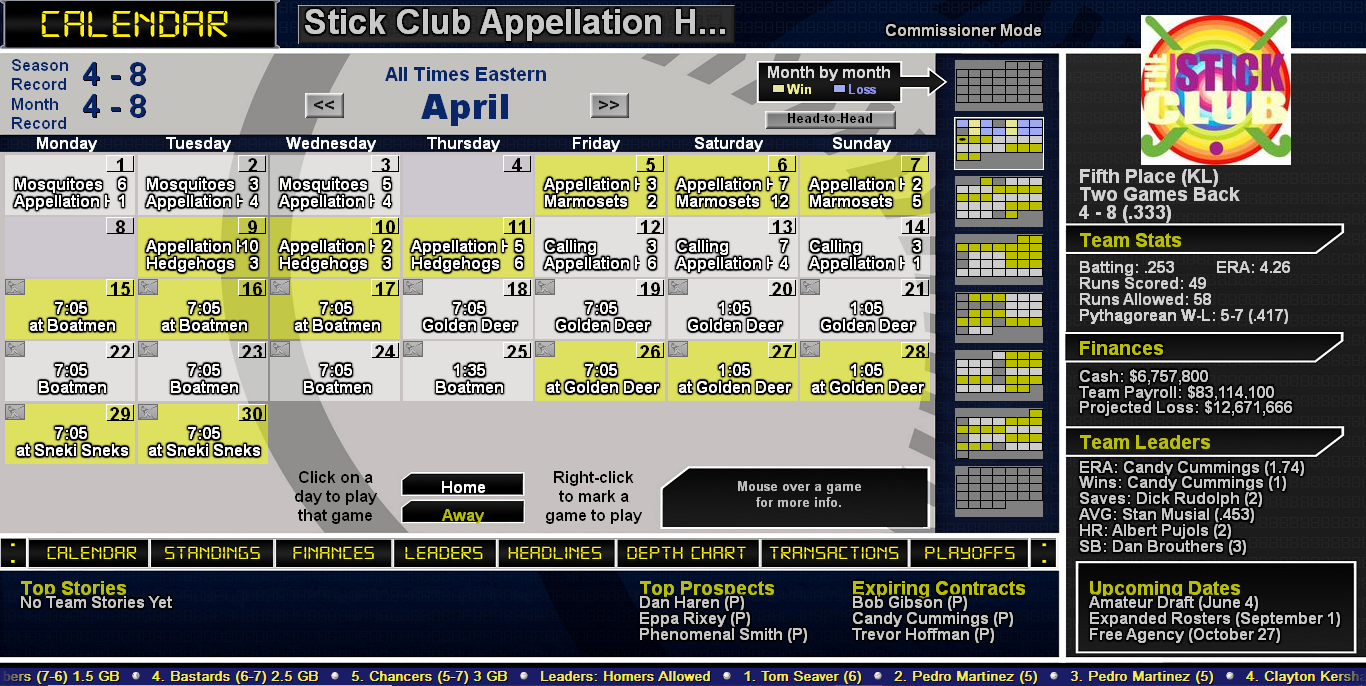 Stan Musial freaking sucks compared to Cochrane! Get your act together! You think a .453 OBP is going to save the stick club?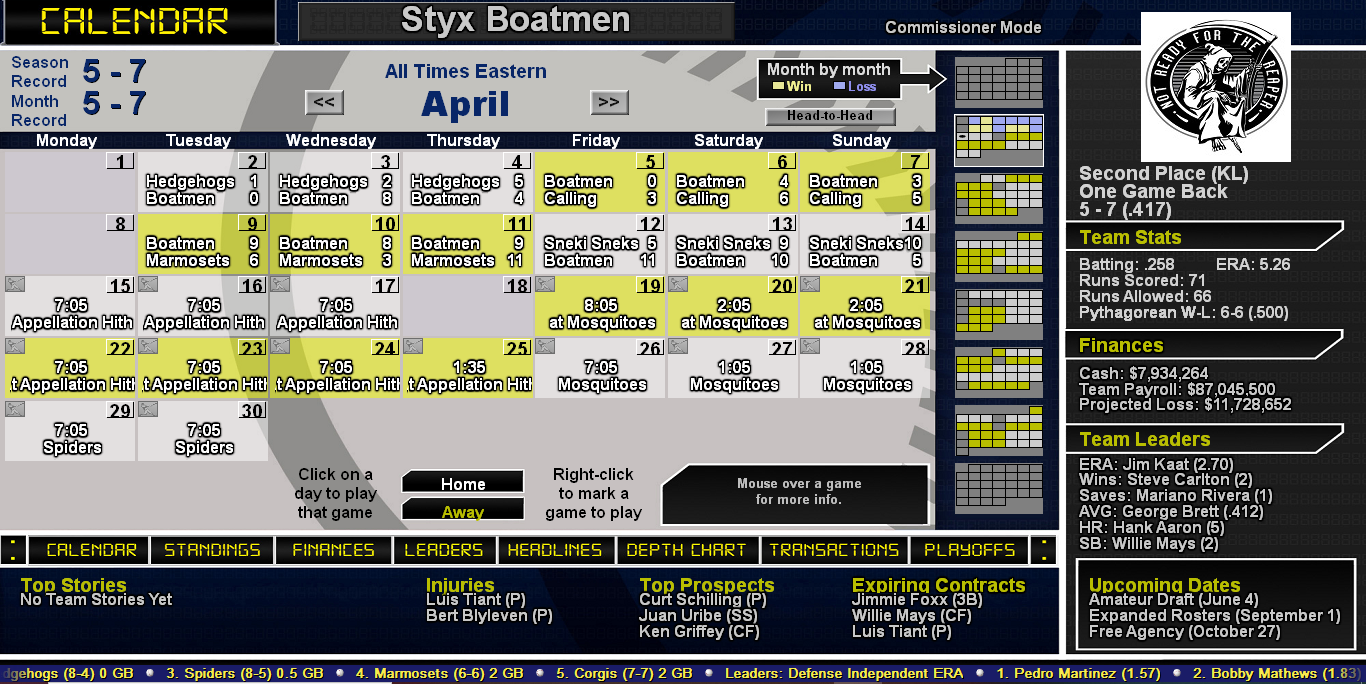 This team does not fear the reaper of never scoring runs, that's for sure.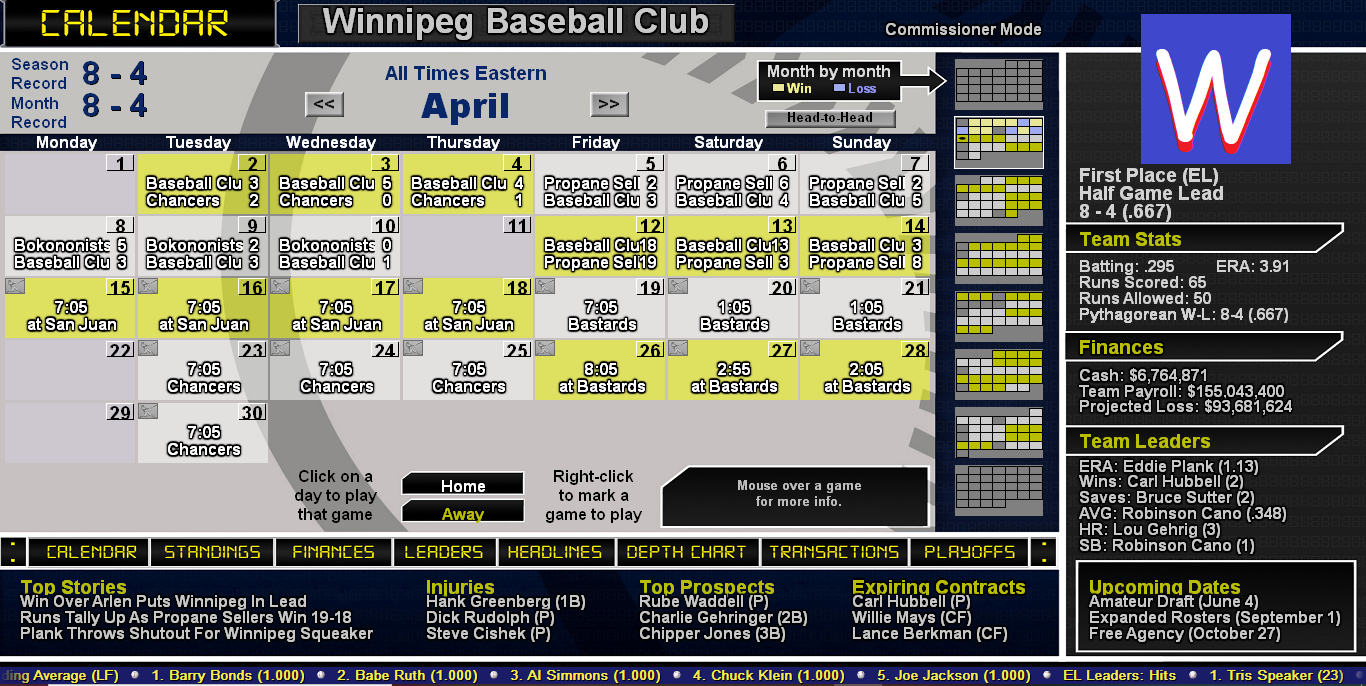 When every player on your lineup has an OBP over .320, you're doing something right.